National Assembly of the Republic of Serbia / Activities / Activity details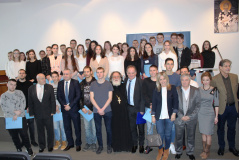 14 December 2019 Participants of Privrednik's 8th Congress of Scholars and Serbian Youth in Zagreb: Be Proud of Your Name and Origin
Monday, 16 December 2019
Linta at Privrednik's 8th Congress of Scholars and Serbian Youth in Zagreb: Be Proud of Your Name and Origin
Miodrag Linta, Chairman of the Serbian Assembly's Committee on the Diaspora and Serbs in the Region, attended the 8th Congress of Privrednik's scholars and Serbian youth on Saturday, 14 December 2019, at the Serbian Orthodox Grammar School "Kantakuzina Katarina Brankovic" in Zagreb.
---
Addressing Privrednik's former and current scholars and guests from Croatia and the region, among other things Linta said that the Serbian Government, with the support of President Vucic, has financially aided and continues to aid the work of Serbian corporation Privrednik, headed by Nikola Lunic. Privrednik is very important for the Serbian community in Croatia because it supports and aids young Serbs by providing scholarships for high-school and university students, and in many other ways. Linta told the young Serbs to be proud of their name and origin, to preserve the Serbian language and Cyrillic script, Orthodox religion, to congregate around the Serbian Orthodox Church and keep the memory of their compatriots who lost their lives in the 20th century, to respect and help one another.
Privrednik's donors are the Government of the Republic of Serbia, Serbian National Council, Serbian Orthodox Church Municipality of Zagreb, parish of the Temple of Christ's Ascension in Vienna, as well as a number of local self-governments and individuals. Thanks to them Privrednik has this year provided scholarships for 56 high-school and university students (24 and 32 respectively) via two funds: "Vladimir Matijevic" fund for talented materially disadvantaged high-school and university students and "Ivana Vujnovic" fund for excellent students.
The Congress was attended nu 150 young members of Privrednik, sympathizers and donors, representatives of youth associations and numerous guests. The attending were addressed by the President of Privrednik Nikola Lunic, President of the Croatian Government's Council for National Minorities Aleksandar Tolnauer, envoy of the Metropolitan of Zagreb and Ljubljana Porfirije, archimandrite Danilo Ljubotina, envoy of the Mayor of Zagreb Katarina Milkovic, secretary of the Serbian National Council Aleksandar Milosevic and others. Guitar player Zoran Stojanovic Kizo, Domaci gosti choir and actor Milivoj Beader performed in the entertainment part of the programme.
The congress also hosted a panel discussion on "Philanthropy – foundation and inspiration for young people" featuring Renata Gubic of the foundation Croatia for Children, Lidija Pavic Rogosic of ODRAZ, Prof. Dr Jovo Radic of Privrednik Novi Sad, Marko Ingnjatic of Privrednik Zagreb, Martina Horvat of the foundation Solidarity and Sinisa Senad Music of the Roma Education Fund.


---
---
| M | T | W | T | F | S | S |
| --- | --- | --- | --- | --- | --- | --- |
| 27 | 28 | 29 | 30 | 31 | 1 | 2 |
| 3 | 4 | 5 | 6 | 7 | 8 | 9 |
| 10 | 11 | 12 | 13 | 14 | 15 | 16 |
| 17 | 18 | 19 | 20 | 21 | 22 | 23 |
| 24 | 25 | 26 | 27 | 28 | 29 | 30 |
| 31 | 1 | 2 | 3 | 4 | 5 | 6 |
friday, 7 august
No announcements for selected date