National Assembly of the Republic of Serbia / Activities / Activity details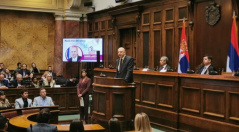 15 November 2022 The Chairman of the Health and Family Committee Prim. Doc. Dr Darko Laketic at the Medical and Pharma Conference: The Nation Must Be Healthy
Tuesday, 15 November 2022
Laketic: Timely Reform of Healthcare Policies and Systems - Crucial Issue for All Future Crises
"In the last three years, the COVID-19 pandemic has had a major impact not only on healthcare systems, but has had major social, cultural, even political and international consequences, and above all, personal and family ones. States had to make quick and often difficult decisions. Analysis of the healthcare systems' crisis response showed that most healthcare systems proved themselves inadequate in the face of the "shock" effect. That is why timely reform of the healthcare system and policy is crucial, that is, coming up with a solution for a potential new crisis," said Prim. Doc. Dr Darko Laketic today at the Medical and Pharma Conference: The Nation Must Be Healthy held in the National Assembly.
---
Opening the conference on behalf of National Assembly Speaker Dr Vladimir Orlic, he said that it is important to discuss health topics in the National Assembly, to have these topics "enter" the parliamentary benches. Laketic stated that all the consequences caused by the COVID-19 pandemic have a common denominator - they are negative and harmful, and that the question of all questions is whether their intensity will lead to the destruction of humanity or the making of decisions that could prevent future crises.
"We need to look for solutions for healthcare policies and systems, which requires a lot of work and investment in knowledge and above all patience, in order to find the best solutions for the future," said the Chairman of the Health and Family Committee.
At today's conference, the participants will discuss the most important medical issues and the pharmaceutical industry today and the importance of preserving the health of the nation, as well as the healthcare system in the country. At the opening of the conference, the participants were addressed by the Ambassador of the Republic of Turkey in Serbia Hami Aksoy and representatives of the Ministry of Health.
The Medical and Pharma Conference: The Nation Must Be Healthy, organised by Color Media Communications, was attended, besides the MPs and representatives of the Serbian Government and the diplomatic corps, by numerous doctors and healthcare workers, as well as representatives of the pharmaceutical industry.
---
---
friday, 27 january
8.30 - the National Assembly Speaker meets with the EP Rapporteur for Serbia and a member of the EU - Serbia SAPC delegation (National Assembly House, 13 Nikola Pasic Square, hall 1)

9.00 - sitting of the Committee on the Judiciary, Public Administration and Local Self-Government (National Assembly House, 13 Nikola Pasic Square, hall 2)

10.00 - the MPs meet with the EP Rapporteur for Serbia and a member of the EU - Serbia SAPC delegation (National Assembly House, 13 Nikola Pasic Square, Small Hall)

12.15 - press conference of MP Prof. Dr Tamara Milenkovic Kerkovic (National Assembly House, 13 Nikola Pasic Square, Central Hall)