National Assembly of the Republic of Serbia / Activities / Activity details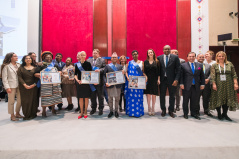 16 October 2019 National Assembly Deputy Speaker Prof. Dr Vladimir Marinkovic hands over the Future Policy Award 2019 on Youth Empowerment
Wednesday, 16 October 2019
Lajcak Speaks at General Debate, Marinkovic Hands Future Policy Award 2019 on Youth Empowerment
Slovak Minister of Foreign and European Affairs and OSCE Chairperson-in-Office Miroslav Lajcak addressed the attending parliamentarians at the 141st IPU Assembly General Debate, stressing the importance of their role in the world order.
---
He said that international treaties, resolution and pacts have no meaning without parliamentarians who are responsible for making international law a reality. Lajcak added that trade, supply chains and the development of technology have at the same time helped reduce the differences between the countries and increased social segregation.
In the special segment for the Future Policy Award 2019 on Youth Empowerment, gold went to YouthConnekt Initiative from Rwanda, and National Assembly Deputy Speaker Prof. Dr Vladimir Marinkovic handed silver over to Scotland's Developing the Young Workforce Strategy (2014 – 2021).


---
Photo gallery
---
---
monday, 21 september
No announcements for selected date