National Assembly of the Republic of Serbia / Activities / Activity details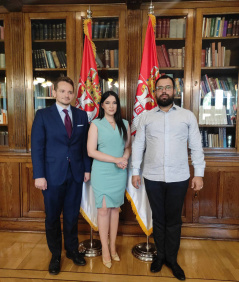 7 July 2022 The Deputy Speaker of the National Assembly of the Republic of Serbia and the representatives of the Armenian National Community in Serbia
Thursday, 7 July 2022
Krkobabic: We Continue Deepening Relations between Serbia and Armenia, Helped by Shared History and Exceptional Bilateral Relations
Today, the Deputy Speaker of the National Assembly of the Republic of Serbia and the Vice President of the PUPS - Solidarity and Justice Party Stefan Krkobabic hosted representatives of the Armenian National Community in Serbia Biljana Shahrimanyan Obradovic and Darko Obradovic, with whom he discussed the organisation's activities and the options for deepening sporting, cultural and overall cooperation between Serbia and Armenia.
---
"Our historical ties date back to the times of Saint Sava who visited Armenia. Armenian artists and builders participated in the construction of our medieval churches and monasteries, and Vuk's "Serbian Dictionary" and Njegos's "Mountain Wreath" were printed in an Armenian printing house in Vienna. Our cultural and historical ties are strong", said Krkobabic. He went on to say that Serbia and Armenia today have no open issues and that their bilateral cooperation is following an upward trend. Armenia's support for Serbia's struggle to maintain its sovereignty and territorial integrity in Kosovo-Metohija is invaluable.
"We hope that Armenia will open an embassy in Serbia and look forward to cooperating with the Armenian National Community which has, since 2019 to date, done a lot to promote Armenian culture here, as well as Serbian culture in Armenia. With joint forces, I am certain that we will contribute to the further advancement of overall relations between Serbia and Armenia," Krkobabic concluded.
---
---
wednesday, 10 august
No announcements for selected date