National Assembly of the Republic of Serbia / Activities / Activity details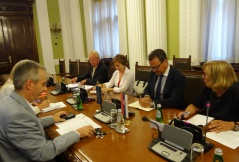 25 August 2015 The Chairman of the Committee on Kosovo-Metohija in meeting with the rapporteur of the PACE Committee on Political Affairs and Democracy
Tuesday, 25 August 2015
Kosovo-Metohija Committee Chairman Meets with PACE Political Affairs and Democracy Committee Rapporteur
The Chairman of the Committee on Kosovo-Metohija Milovan Drecun met today with the rapporteur of the Parliamentary Assembly of the Council of Europe Committee on Political Affairs and Democracy Agustin Conde to discuss human rights, democratic standards and the fight against corruption and crime in Kosovo-Metohija.
---
The Chairman of the Committee on Kosovo-Metohija Milovan Drecun briefed rapporteur Conde on the Committee's activities, stressing the MPs' active role in designing the Serbian Government's policy toward Kosovo-Metohija. He restated that Serbia sees no perspective in the unilaterally declared independence of Kosovo which he believes to be an act of secession and precedent in international law. Drecun added that Serbia considers the institutions in Kosovo-Metohija to be provisional local institutions, and definitely not state institutions, adding that Resolution 1244 is still a current document for Serbia.

"Stable relations between Belgrade and Pristina are important for the quality of living of everybody in Kosovo-Metohija, they are important for Serbia and its European aspirations, as well as cooperation in the region. We see the normalisation process which resulted in the Brussels Agreement, as the best European prospect for the entire region", said Drecun.

He mentioned the glaring lack of democratic capacities to exercise human rights of the Serbian community and other non-Albanian communities in Kosovo-Metohija, especially the Roma, as well as young Albanians who do not see their future in Kosovo-Metohija. He said that there is no respect for basic human rights in Kosovo, especially the right to life and work, freedom of movement and safety are endangered, and the Kosovo police and judiciary discriminate against non-Albanians. Unprocessed crimes against Serbs and physical attacks on returning Serbs send a clear message to the displaced not to return to Kosovo, said Drecun.

"Serbs need to have an institutional framework, recognised by Pristina and Brussels, which would support sustainable living in Kosovo-Metohija such as the Community of Serb municipalities which Pristina opposes", concluded Drecun.

Drecun also added that there is corruption in the Pristina institutions which also have ties with criminal structures developed from the paramilitary Kosovo Liberation Army whose representatives take part in the political life in Kosovo-Metohija.

"What truly causes concern is the fact that the criminal structures are stronger than the institutions and the international community in Kosovo, which make it a safe territory for crime. Kosovo is also developing a radical wing of Islamism, tolerated and supported by leading Albanian politicians, which is a particular problem", concluded Drecun.


---
---
friday, 18 september
No announcements for selected date