National Assembly of the Republic of Serbia / Activities / Activity details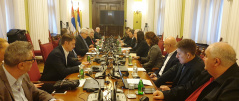 18 February 2019 The members of the Committee on the Judiciary, Public Administration and Local Self-Government with the Head of the Council of Europe Human Rights Directorate Christophe Poirel
Monday, 18 February 2019
Judiciary, Public Administration and Local Self-Government Committee Meets with Head CoE Human Rights Directorate
The members of the Committee on the Judiciary, Public Administration and Local Self-Government met today, at the National Assembly House, with the Head of the Council of Europe Human Rights Directorate Christophe Poirel.
---
Poirel wanted to know whether the Bill on missing babies had entered Assembly procedure and when it would be on a plenary agenda.
Committee Chairman Petar Petrovic informed Poirel that the Bill has indeed entered Assembly procedure and that it would be on the agenda of one of the upcoming regular spring sessions.
He said that the Bill had not been passed earlier because it tackles a very sensitive issue which called for extra precautions to make sure it is both acceptable for the parents of the mission children and applicable in practice.
Poirel conveyed the message of the Council of Europe Committee of Ministers that they hope the law would be adopted soon and said he was pleased that the Bill had entered Assembly procedure which is an important step toward its adoption.


---
---
tuesday, 21 january
10.00 - continuation of the 19th Extraordinary Session of the National Assembly of the Republic of Serbia, 11th Legislature (National Assembly House, 13 Nikola Pasic Square)

13.00 - press conference of MP Marinika Tepic (National Assembly House, 13 Nikola Pasic Square, Central Hall)

13.30 - press conference of MP Djordje Vukadinovic (National Assembly House, 13 Nikola Pasic Square, Central Hall)

14.00 - press conference of MP Sandra Bozic (National Assembly House, 13 Nikola Pasic Square, Central Hall)

14.20 - press conference of National Assembly Deputy Speaker Djordje Milicevic (National Assembly House, 13 Nikola Pasic Square, Central Hall)

14.30 - press conference of MP Aleksandar Markovic (National Assembly House, 13 Nikola Pasic Square, Central Hall)