National Assembly of the Republic of Serbia / Activities / Activity details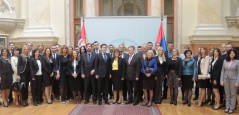 8 April 2015 The judges elected to judicial office for the first time and the National Assembly Speaker
Wednesday, 8 April 2015
Judges Elected to Judicial Office for First Time Take Oath of Office Before National Assembly Speaker
Today, judges elected to judicial office for the first time took the oath of office before the National Assembly Speaker.
---
Gojkovic wished the judges success in the performance of their duty saying that she believes that they would pursue it independently and without bias in line with the law and Constitution, following their conscience, and ensure a just trial for everyone, thus contributing to the reputation of the judicial office in the Republic of Serbia.

"We believe that, in the course of your three-year term of office in basic and special courts, as newly-elected bearers of judicial office, you will greatly contribute to the continued reform of the judicial system, aimed at creating an independent, modern and efficient judiciary and promoting the rule of law in its entirety", said Speaker Gojkovic.

The judges, 34 of them, were elected to judicial office at the First Sitting of the First Regular Session of the National Assembly of the Republic of Serbia in 2015, on 10 March 2015.

The oath-taking was attended by Minister of Justice Nikola Selakovic and President of the High Judicial Council Dragomir Milojevic.

---
---
wednesday, 15 july
13.00 - press conference of MPs Sasa Radulovic, Branka Stamenkovic and Vojin Biljic (National Assembly House, 13 Nikola Pasic Square, Central Hall)