National Assembly of the Republic of Serbia / Activities / Activity details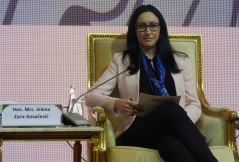 9 December 2019 National Assembly delegation member Jelena Zaric Kovacevic at the 7th Global Conference of Parliamentarians Against Corruption panel on integrity of institutions
Monday, 9 December 2019
Jelena Zaric Kovacevic at 7th Global Conference of Parliamentarians Against Corruption Panel on Integrity of Institutions
A delegation of the National Assembly of the Republic of Serbia is taking part in the 7th Global Conference of Parliamentarians Against Corruption in Doha, 9-10 December 2019.
---
MP Jelena Zaric Kovacevic spoke at the panel on the integrity of institutions in the fight against corruption stressing that combating corruption is the strategic priority of the Serbian National Assembly and Government.
By passing good laws the Serbian institutions have demonstrated their commitment to the fight against corruption, she said, as well as a series of measures for preventive and repressive action.
Zaric Kovacevic said that the Serbian Assembly had set up the GOPAC National Branch in 2013 in the belief that the parliament should be on the front line in the fight against corruption, passing laws and developing programmes to meet the people's needs.
The National Assembly had passed a Law on Lobbying, which came into force in September, to meet the relevant European anti-corruption standards, said Zaric Kovacevic and added that next year the amended Law on Prevention of Corruption will come into force, expanding the authority of the Anti-Corruption Agency and the volume of information public dignitaries need to report. In addition to setting up the necessary normative framework, the Law on Protection of Whistleblowers also envisages a series of measures for the efficient implementation of regulations in practice and opportunities for the inclusion of the civil sector.
Zaric Kovacevic said that special teams of experts from different state bodies had been set up to ensure an efficient combat against corruption and crime, whose activities led to the launching of very complex criminal proceedings, adding that for the first time Serbia has set up a financial forensics service which is very important for the suppression of financial crime. However, GOPAC Serbia's biggest result is in the introduction of the Public Finance Supervision Portal.
Zaric Kovacevic said that GOPAC Serbia National Branch is ready to continue to combat corruption which means the use of anti-corruption mechanisms in their full capacity and inclusion of the civil sector and citizens.


---
---
friday, 18 september
No announcements for selected date