National Assembly of the Republic of Serbia / Activities / Activity details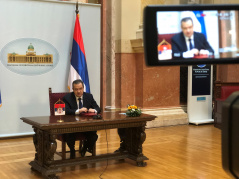 5 February 2021 The Speaker of the National Assembly of the Republic of Serbia Ivica Dacic calls local elections in Zajecar, Kosjeric and Presevo for 28 March
Friday, 5 February 2021
Ivica Dacic Calls Local Elections in Zajecar, Kosjeric and Presevo for 28 March
The Speaker of the National Assembly of the Republic of Serbia Ivica Dacic called local elections in Zajecar, Kosjeric and Presevo for 28 March.
---
In line with his constitutional authority, Ivica Dacic signed the decisions calling elections for councillors in the three abovementioned local self-governments.
The decisions shall come into force on the day they are published in the Official Gazette, which also sets in motion the timeline for the electoral activities.
Dacic said that in the case of the Zajecar City Assembly and Kosjeric Municipal Assembly, the councilmen's term of office had expired, while in the case of the Presevo Municipal Assembly, a provisional body was instated and the decision adopted now was in compliance with set deadlines.
---
Photo gallery
---
---
friday, 23 april
13.00 - video meeting of the Chairman of the National Assembly Foreign Affairs Committee and the Chairman of the Italian Chamber of Deputies Foreign Affairs Committee (National Assembly House, 13 Nikola Pasic Square, hall 2)