National Assembly of the Republic of Serbia / Activities / Activity details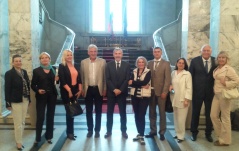 18 June 2015 The members of the Committee on Human and Minority Rights and Gender Equality in visit to the Bulgarian Parliament
Monday, 22 June 2015
Human and Minority Rights and Gender Equality Committee Members Talk to Bulgarian Parliament's Religious Denominations and Human Rights Committee Members
The members of the Committee on Human and Minority Rights and Gender Equality held a joint meeting with the Bulgarian Parliament's Religious Denominations and Human Rights Committee, on 18 June 2015, in Sofia.
---
The two committees emphasised the need for parliamentary cooperation between the committees in charge of human rights in the region, especially in relation to European integration.

Committee Chairman Meho Omerovic opposed Hungary's announced building of a wall along the border to bar the illegal migrants' access to the country. He said that this is a clear violation of human rights and urged the Bulgarian institutions to react against these announced activities and act in accordance with the Agreement on Readmission.

The Chairman of the Bulgarian Parliament's Religious Denominations and Human Rights Committee Krasimir Velchev stressed that Bulgaria, as an EU country, stands for open borders and human rights, and stressed that the Committee is ready to assist its Serbian counterparts as regards the European integration.

The two committees also discussed the rights of the Bulgarian national minority in the Republic of Serbia, protection of Roma, representation of women in both parliaments, and the need to boost the numbers of women in the executive power.

In addition to Meho Omerovic, the meeting was also attended by Committee members Ljiljana Malusic, Vladica Dimitrov, Biljana Ilic Stosic, Zlata Djeric, Vera Paunovic and Aida Corovic.

The next day, 19 June, the Committee held a sitting outside of the headquarters in Dimitrovgrad with the topic: Role of the national councils of national minorities and the local community in the realisation of national minority rights and the right to information in national minority languages. The sitting was attended by representatives of the national minority councils: Bulgarian, Romanian, Vlach and Macedonian, local self-government bodies, media and NGOs from Dimitrovgrad, Bosilegrad, Pirot, Zajecar and Bor.

The participants pointed out the problem that the privatisation of media broadcasting programmes in national minority languages which are funded from the local self-government budget would cause, because they believe it would lead to their elimination. They cited the obligations the Republic of Serbia has in connection with EU Negotiation Chapter 23, considering that the Draft Action Plan for the chapter lists obligatory steady funding guaranteeing the sustainability of media in minority languages.

At the end of the sitting the Committee agreed to request urgent consultation with the Ministry of Culture and Media on these issues and employ other measures at its disposal to protect the right to information in national minority languages.


---
---
| M | T | W | T | F | S | S |
| --- | --- | --- | --- | --- | --- | --- |
| 27 | 28 | 29 | 30 | 31 | 1 | 2 |
| 3 | 4 | 5 | 6 | 7 | 8 | 9 |
| 10 | 11 | 12 | 13 | 14 | 15 | 16 |
| 17 | 18 | 19 | 20 | 21 | 22 | 23 |
| 24 | 25 | 26 | 27 | 28 | 29 | 30 |
| 31 | 1 | 2 | 3 | 4 | 5 | 6 |
friday, 7 august
No announcements for selected date