National Assembly of the Republic of Serbia / Activities / Activity details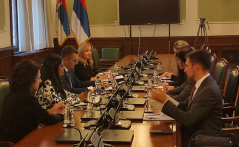 25 October 2022 The Chairman of the Committee on Human and Minority Rights and Gender Equality in meeting with the Head of the OSCE Mission in Serbia Democratisation Department
Tuesday, 25 October 2022
Human and Minority Rights and Gender Equality Committee Chairman Meets with Head of OSCE Mission to Serbia Democratisation Department
The Chairman of the Committee on Human and Minority Rights and Gender Equality Dr Muamer Bacevac met today at National Assembly House with the Head of the OSCE Mission in Serbia Democratisation Department Vladimir Valdes Garcia.
---
The officials discussed the Committee's future activities and the OSCE Mission in Serbia's possible support to these activities.
The Committee Chairman thanked the OSCE Mission for the support it provides to the institutions in Serbia, including the National Assembly and this Committee. He highlighted the OSCE Mission's great support in the Committee's activities aimed at combating violence against women, adding that this problem is still very pronounced. He hopes that this issue will be one of the first joint activities. He also emphasised the importance of the OSCE Mission's project that involves the engagement of interns from southern and southwestern Serbia for professional practice. The Committee had hosted young experts from Novi Pazar in three project cycles. He also recalled other joint activities carried out in previous National Assembly legislatures, such as considering the issue of asylum and migration, improving cooperation with the Ombudsman and supporting the activities of the Subcommittee for Roma Issues. He believes that this have provided a solid foundation for the continuation of the same and similar activities.
Vladimir Valdes Garcia said he agreed with the Committee Chairman's suggestions, especially those concerning the fight against violence against women and femicide. Garcia also mentioned the possibility that the OSCE Mission could provide support to the Committee to organise public hearings concerning the allegations from the reports of independent state authorities. He went on to mention the existence of gender analyses and monitoring of the application of COVID measures in Serbia.
The Committee Chairman and the Head of the OSCE Mission Democratisation Department agreed that it would be good to mark the International Day for the Elimination of Violence against Women by organising a conference on 25 November 2022 in the National Assembly, and that the Committee can count on the OSCE Mission's support for this and the other issues mentioned.
The meeting was also attended by Committee Deputy Chairperson Natasa Tasic Knezevic and Sanda Raskovic Ivic.
Natasa Tasic Knezevic pointed out that violence against women also affects children, with Roma women and girls being in a particularly difficult position. She proposed organising a two-day conference on the subject in Nis, on International Human Rights Day, 10 December, because it is important that the Committee has activities on this issue outside of Belgrade as well.
Sanda Raskovic Ivic agreed that it is important to organise a conference in the National Assembly on the International Day for the Elimination of Violence against Women, and took the opportunity to strongly endorse the initiative launched by the FemPlatz association to establish a body to monitor femicide.
The meeting was attended by Sara Agnes Bodens, Bogdan Urosevic and Tatjana Djurkovic on behalf of the OSCE Mission in Serbia.
---
---
friday, 3 february
11.00 - continuation of the Third Special Sitting of the National Assembly of the Republic of Serbia, 13th Legislature (National Assembly House, 13 Nikola Pasic Square)

12.00 - press conference of the MPs of the People's Party Parliamentary Group (National Assembly House, 13 Nikola Pasic Square, Central Hall)

14.00 - sitting of the Committee on Constitutional and Legislative Issues (National Assembly House, 13 Nikola Pasic Square, hall 2)

15.30 - press conference of MP Dragan Nikolic (National Assembly House, 13 Nikola Pasic Square, Central Hall)