National Assembly of the Republic of Serbia / Activities / Activity details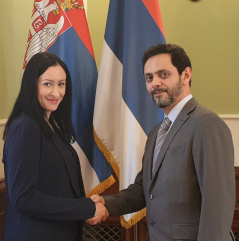 7 March 2019 The Head of the PFG with UAE and the UAE Ambassador to Serbia
Thursday, 7 March 2019
High-Level Cooperation between PFG with UAE and UAE Embassy
Jelena Zaric Kovacevic, Head of the Parliamentary Friendship Group with the United Arab Emirates, met today with UAE Ambassador to Serbia H.E. Mubarak Saeed Ahmed Barasheed Al Dhaheri to discuss overall cooperation.
---
The PFG Head thanked the Ambassador for the reception at the Embassy for the UAE national day, stressing that it has been 30 years since the two countries established diplomatic relations. Zaric Kovacevic went on to say the PFG is open to any type of cooperation, praising the decision to abolish visas for Serbia citizens, which should come into force soon, and adding that it would help foster even closer ties between the two countries.
The PFG Head also thanked the Ambassador for UAE's support of the Belgrade-Pristina dialogue. She expressed concern about the Albanian side's attempts to radicalize its moves viz. the imposition of 100% customs tax on goods coming from central Serbia and the push to establish a so-called Kosovo Army.
The Ambassador reaffirmed that the Emirates support of the Belgrade-Pristina dialogue, stressing that peace in the region is vital and radical moves would not benefit anybody. The Ambassador agreed that the two countries enjoy a high-level of cooperation, which the Serbian President's visit to the UAE had definitely contributed to as such visits are vital for strong political and economic ties.
Mentioning National Assembly Speaker Maja Gojkovic's visit to the Emirates, Jelena Zaric Kovacevic said that the already admirable bilateral relations could be intensified by an exchange of visits of parliamentary friendship groups. She added that cultural cooperation could help the two nations learn more about one another. She thanked the Emirates for their investments into Serbia – 234 million EUR in the period between 2013 and 2916, adding that Serbia is open to any investments that would help its economic development. She also thanked the Embassy for its assistance, with the help of UAE humanitarian organizations, in the adaptation of the elementary school in Nis, clinical centre in Kikinda and the donation for the socially disadvantaged family from Belgrade. She said that the PFG is ready to continue the cooperation and is in constant contact with those who need help the most.
Ambassador Mubarak Saeed Ahmed Barasheed Al Dhaheri said he was pleased to be able to help those who need it and that he would do his best to make sure the exchange of visits of parliamentary friendship groups happens. This is a year of tolerance in the UAE and the Embassy is planning a series of activities to promote tolerance in Serbia's educational facilities, said the Ambassador, offering to cooperate on the matter and the PFG Head pledged to work on making the idea come to fruition.


---
---
saturday, 4 july
No announcements for selected date