National Assembly of the Republic of Serbia / Activities / Activity details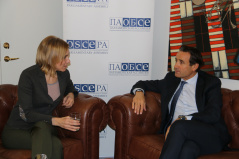 20 January 2020 The Head of standing delegation to the OSCE PA Stefana Miladinovic in study visit to the OSCE PA Secretariat (photo © OSCEPA)
Thursday, 23 January 2020
Head of Standing Delegation to OSCE PA Stefana Miladinovic in Study Visit to OSCE PA Secretariat in Copenhagen
OSCE PA Special Rapporteur on Digital Agenda Stefana Miladinovic paid a three-day working visit to Denmark to research and study Denmark's digital development and new national strategic documents.
---
In the course of the working visit, Stefana Miladinovic met with MP Christoffer Aagaard Melson, his party's spokesperson for IT and telecommunication in the Danish Parliament, and the officials of the administration of the City of Copenhagen. They discussed the strategies the Government and local administration employ to advance services and instate digital society in Denmark.
Miladinovic also met with officials of the Danish Agency for Digitisation and Confederation of Danish Industry. They meeting focused on Denmark's digital path in the last decades and efforts to secure more efficient digital solutions and services for the citizens. The officials presented strategic documents and new solutions conducted together by the public and private sector, also touching on future challenges, especially digital security, data protection and the need to maintain trust in the public sector which is vital for future digital developments.
Denmark is the first country Miladinovic visited in the capacity of Special Rapporteur expressly because its digital path can serve as a good example for other countries.
"Denmark teaches us that digitalization is inevitable and I want to continue to work on promoting cooperation between parliamentarians on the international scene in order to raise awareness and exchange information", said Miladinovic adding that we have to be aware of potential threats and continue to strengthen our joint efforts to mitigate safety risks.
"It is clear that digital transformation has a positive impact on both business and trade and the individual and society as a whole, and it is up to us to take active part in this process by following solutions that advance digital society, as well as protect human rights and security", she concluded.
In the course of her visit to Copenhagen, the Head of standing delegation to the OSCE PA Stefana Miladinovic also had bilateral meetings with OSCE PA Secretary General Roberto Montella and Serbian Ambassador to Denmark Jasmina Mitrovic Maric.


---
---
friday, 27 january
8.30 - the National Assembly Speaker meets with the EP Rapporteur for Serbia and a member of the EU - Serbia SAPC delegation (National Assembly House, 13 Nikola Pasic Square, hall 1)

9.00 - sitting of the Committee on the Judiciary, Public Administration and Local Self-Government (National Assembly House, 13 Nikola Pasic Square, hall 2)

10.00 - the MPs meet with the EP Rapporteur for Serbia and a member of the EU - Serbia SAPC delegation (National Assembly House, 13 Nikola Pasic Square, Small Hall)

12.15 - press conference of MP Prof. Dr Tamara Milenkovic Kerkovic (National Assembly House, 13 Nikola Pasic Square, Central Hall)