National Assembly of the Republic of Serbia / Activities / Activity details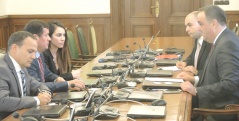 28 July 2015 The Head of the Parliamentary Friendship Group with Turkey in meeting with the Head of the Parliamentary Friendship Group with Serbia of the Grand National Assembly of Turkey
Wednesday, 29 July 2015
Head of Parliamentary Friendship Group with Turkey Speaks to Head of Turkish Parliamentary Friendship Group with Serbia
The Head of the Parliamentary Friendship Group with Turkey, Zoran Babic, met today, at the National Assembly, with the Head of the Parliamentary Friendship Group with Serbia of the Grand National Assembly of Turkey, Seyit Sertçelik.
---
Zoran Babic informed the guest about the ongoing reforms in Serbia highlighting the National Assembly's role in the process of harmonisation of the national legislation with the EU acquis.

The new legislation passed at the National Assembly will contribute to a better investment climate, said Zoran Babic in the meeting with his Turkish counterpart and invited Turkish companies to boost their investments into Serbia.

The officials agreed that there is ample room to expand economic cooperation between Serbia and Turkey, and the Head of the PFG with Serbia Seyit Sertçelik said he would do his best to present the favourable investment conditions in Serbia to Turkish businessmen.

He commended Serbia's decision not to instate sanctions against Russia, to which Zoran Babic responded that Serbia is dedicated to the European integration process and fostering cooperation with other countries, not to conflicts.

The officials also discussed the potential for improving cooperation between Serbia and Turkey in the spheres of tourism, wellness and health tourism.

The meeting was also attended by Turkish Ambassador to Serbia Mehmet Kemal Bozay.


---
---
| M | T | W | T | F | S | S |
| --- | --- | --- | --- | --- | --- | --- |
| 27 | 28 | 29 | 30 | 31 | 1 | 2 |
| 3 | 4 | 5 | 6 | 7 | 8 | 9 |
| 10 | 11 | 12 | 13 | 14 | 15 | 16 |
| 17 | 18 | 19 | 20 | 21 | 22 | 23 |
| 24 | 25 | 26 | 27 | 28 | 29 | 30 |
| 31 | 1 | 2 | 3 | 4 | 5 | 6 |
friday, 7 august
No announcements for selected date