National Assembly of the Republic of Serbia / Activities / Activity details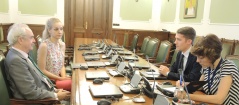 23 July 2015 The Head of the Parliamentary Friendship Group with Spain in meeting with the Ambassador of the Kingdom of Spain in Belgrade
Thursday, 23 July 2015
Head of Parliamentary Friendship Group with Spain Speaks to Spanish Ambassador in Belgrade
The Head of the Parliamentary Friendship Group with Spain, Balint Pasztor, met with the newly appointed Ambassador of the Kingdom of Spain in Belgrade, H.E. Miguel Fuertes Suarez, at the National Assembly.
---
Pleased by the excellent bilateral relations between Serbia and Spain, the officials noted that there are no outstanding issues between the two countries.

The Head of the PFG with Spain, Balint Pasztor, said he greatly appreciated Spain's support of Serbia's path to the European Union. He informed the Spanish Ambassador about the PFG's cooperation with the Cervantes Institute in Belgrade, hoping that it would continue with undiminished intensity.

The officials opined that there is ample room to intensify both parliamentary and economic cooperation, and Balint Pasztor said he hoped the Spanish Parliament would set up a PFG with Serbia.

They also discussed the prospects for establishing stronger ties between the regions of the Kingdom of Spain and the Republic of Serbia, and agreed to organise a meeting between the Ambassador and the members of the PFG with Spain.


---
---
| M | T | W | T | F | S | S |
| --- | --- | --- | --- | --- | --- | --- |
| 27 | 28 | 29 | 30 | 31 | 1 | 2 |
| 3 | 4 | 5 | 6 | 7 | 8 | 9 |
| 10 | 11 | 12 | 13 | 14 | 15 | 16 |
| 17 | 18 | 19 | 20 | 21 | 22 | 23 |
| 24 | 25 | 26 | 27 | 28 | 29 | 30 |
| 31 | 1 | 2 | 3 | 4 | 5 | 6 |
friday, 7 august
No announcements for selected date