National Assembly of the Republic of Serbia / Activities / Activity details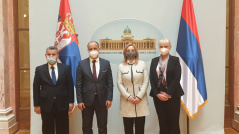 29 January 2021 Head of PFG with Iraq Samira Cosovic with the Chargé d'Affaires of the Iraqi Embassy in the Republic of Serbia Mr. Haider Rashid Swadi
Friday, 29 January 2021
Head of Parliamentary Friendship Group with Iraq Samira Cosovic Meets with Iraqi Charge d'Affaires in Serbia
The Head of the Parliamentary Group of Friendship with Iraq Samira Cosovic met today, for the first time, with the Charge d'Affaires of the Iraqi Embassy in the Republic of Serbia Mr Haider Rashid Swadi.
---
At the very beginning of the meeting, the Head of the PFG with Iraq emphasised the good bilateral ties between the two countries, launched in 1958, their traditionally good political and friendly relations. Cosovic added that there is always room for cooperation and expressed confidence that the parliaments of the two countries will contribute to it. She informed the Charge d'Affaires that the PFG with Iraq is comprised of 13 MPs adding that, as there is a PFG with Serbia in the Iraqi Parliament, it is clear that there is a desire for cooperation through an exchange of visits of friendship members, when the conditions allow it.
Cosovic took the opportunity to thank Iraq for its principled position to respect the territorial integrity and sovereignty of the Republic of Serbia, despite numerous external pressures, which once again confirms the great friendship of the two countries.
Haider Rashid Swadi confirmed that the relations between the two countries are traditionally good and that Iraq has the ambition to deepen those relations. He noted that Iraq went through a difficult period over the three Gulf Wars, which claimed a large number of human lives and left a big mark on the country's economy. He added that Iraq is faced with a great fight against terrorism and takes into account other countries' stance on the issue. He said Iraq respects international agreements, including the UN Convention, which protects the territorial integrity and sovereignty of states and non-interference in a country's internal affairs.
The officials also reminisced about the cooperation on infrastructure facilities in Iraq and the large number of Iraqis who acquired higher education in Belgrade. They agreed that economic cooperation could be expanded, given that most of it takes place through trade and that there are a large number of signed agreements in force, which could help deepen cooperation.
Cosovic also spoke about the mutual interest in establishing cooperation in the field of information technologies, which began in 2015, the activities of the Ministry in charge of telecommunications with the then Minister Rasim Ljajic, and the Chargé d'Affaires and the PFG Head agreed that cooperation could be strengthened in the fields of culture, education and science.
---
---
friday, 23 april
13.00 - video meeting of the Chairman of the National Assembly Foreign Affairs Committee and the Chairman of the Italian Chamber of Deputies Foreign Affairs Committee (National Assembly House, 13 Nikola Pasic Square, hall 2)