National Assembly of the Republic of Serbia / Activities / Activity details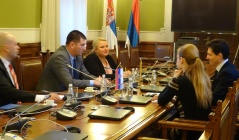 23 December 2015 The Head of the Parliamentary Friendship Group with Ukraine and the Ukrainian Ambassador to Serbia
Wednesday, 23 December 2015
Head of PFG with Ukraine Meets with Ukrainian Ambassador in Serbia
The Head of the Parliamentary Friendship Group with Ukraine Dr Aleksandar Peranovic met today, at the National Assembly House, with the Ukrainian Ambassador to Serbia, H.E. Oleksandr Aleksandrovych.
---
Peranovic thanked the Ambassador for the opportunity to meet and discuss the options for furthering the economic cooperation between the two countries which he believes to be the cornerstone of successful cooperation.

"As a physician I cannot fail to mention that there is ample room to expand cooperation in the field of medicine, too", stressed Peranovic.

He thanked Ukraine for its support expressed by its non-recognition of the unilaterally declared independence of Kosovo, stressing that Serbia has shown that its chief goal is to pursue a peaceful, diplomatic policy, so it is extremely important that issues like this one be resolved at the negotiating table.

"It is exactly such is a policy pursued by Prime Minister Aleksandar Vucic and the Serbian Government that has led to the opening of the first negotiating chapters with the European Union", said Peranovic.

The Ukrainian Ambassador was very interested in intensifying cooperation between the Ukrainian and Serbian parliamentary friendship groups and invited the Head and members of the PFG with Ukraine to visit his country and meet their colleagues at the Ukrainian Parliament.

He drew attention to one important difference between the two parliamentary friendship groups – the Ukrainian PFG is made up of members of only one party, while the National Assembly's Parliamentary Friendship Group with Ukraine comprises members of different political parties.

Regarding Peranovic's proposal to base the cooperation between the two countries on strengthening and promoting economic cooperation, Ambassador Aleksandrovych said that talks on a free trade agreement between Serbia and Ukraine have been launched again and he hoped it would be signed by the end of 2016.


---
---
monday, 17 january
9.00 - the members of the PFG with Russia meet with Russian senators (National Assembly House, 13 Nikola Pasic Square, hall 2)