National Assembly of the Republic of Serbia / Activities / Activity details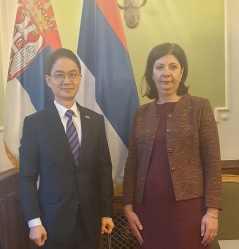 6 March 2019 The Head of the Parliamentary Friendship Group with the Republic of Korea and the newly-appointed Ambassador
Wednesday, 6 March 2019
Head of PFG with Korea Meets with Newly-Appointed Ambassador
The Head of the Parliamentary Friendship Group with the Republic of Korea Dr Ljubica Mrdakovic Todorovic met today at the National Assembly House with the newly-appointed Ambassador of the Republic of Korea to Serbia Hyoung-chan Choe.
---
Dr Mrdakovic Todorovic welcomed the newly-appointed Ambassador and wished him success in his endeavours, also taking the time to highlight the high level of cooperation between the two countries.
The Ambassador said he hoped the excellent bilateral cooperation would continue in the future, adding that there is ample room to expand it in the spheres of politics, economy, culture and education. The diplomatic relations between the Republic of Korea and Serbia are becoming ever stronger as evidenced by the reciprocal visits of the two countries' highest dignitaries, said the Ambassador. He added that this year is the 30th anniversary of diplomatic relations between the two countries and to mark the occasion, parliamentarians of the Republic of Korea plan to visit the Serbian parliament in May.
Dr Mrdakovic Todorovic said that she appreciates the Republic of Korea's support of the dialogue and normalization of relations between Belgrade and Pristina, adding that dialogue is the only way to find a solution to the problems and outstanding issues concerning Kosovo-Metohija. The Ambassador said he truly appreciated Belgrade's efforts to normalize relations with Pristina, hoping that the two sides would come to a compromise solution.
The officials agreed that Serbia is the key to peace and stability in the region.
Finally, they concluded that reciprocal parliamentary visits, exchange of ideas and opinions can advance parliamentary relations, especially in the spheres of healthcare, culture and the economy. They also hope the Republic of Korea would continue with its successful investments into Serbia.


---
---
friday, 10 july
13.00 - press conference of MPs Sasa Radulovic, Branka Stamenkovic and Vojin Biljic (National Assembly House, 13 Nikola Pasic Square, Central Hall)