National Assembly of the Republic of Serbia / Activities / Activity details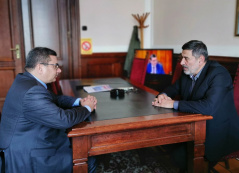 13 February 2020 The Head of PFG with Cuba Prof. Dr Ljubisa Stojmirovic in meeting with Cuban Ambassador to Serbia H.E. Gustavo Trista del Todo
Thursday, 13 February 2020
Head of PFG with Cuba Prof. Dr Ljubisa Stojmirovic Meets with Cuban Ambassador to Serbia
The Head of PFG with Cuba Prof. Dr Ljubisa Stojmirovic met today at the National Assembly House with Cuban Ambassador to Serbia H.E. Gustavo Trista del Todo.
---
Stojmirovic briefed the Ambassador on the current situation in the country, mentioning that the Serbian Assembly had recently passed the Bill amending the Law on Election of Members of Parliament and the Bill amending and modifying the Law on Local Elections.
He explained that by these documents the threshold in the coming elections was reduced from 5 to 3% and the representation of women on both local and republic electoral lists was raised to 40%.
Speaking of the protests in Montenegro following the adoption of the Law on Freedom of Religion by the Montenegrin Parliament, Stojmirovic said that Serbia is pursuing a wise and rational policy, attempting to avoid conflict, but at the same time protect its own interests and the interests of the Serbian people.
Cuban Ambassador to Serbia H.E. Gustavo Trista del Todo informed Prof. Dr Ljubisa Stojmirovic about the current developments on the Cuban political scene. The Ambassador expressed interest in visiting the Municipality of Crna Trava and invited the members of the PFG with Cuba to be the guests of the Cuban Embassy.
The officials opined that the parliamentary relations between the two countries are traditionally good, sure that Serbia and Cuba would continue to maintain the good relations and promote cooperation.
---
---
| M | T | W | T | F | S | S |
| --- | --- | --- | --- | --- | --- | --- |
| 27 | 28 | 29 | 30 | 1 | 2 | 3 |
| 4 | 5 | 6 | 7 | 8 | 9 | 10 |
| 11 | 12 | 13 | 14 | 15 | 16 | 17 |
| 18 | 19 | 20 | 21 | 22 | 23 | 24 |
| 25 | 26 | 27 | 28 | 29 | 30 | 31 |
friday, 1 december
No announcements for selected date