National Assembly of the Republic of Serbia / Activities / Activity details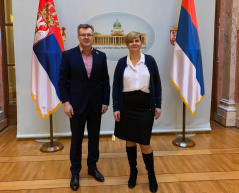 1 February 2019 Head of the standing delegation to PABSEC MA Igor Becic and Russian Embassy representative Alena Kudryavtseva
Friday, 1 February 2019
Head of National Assembly Standing Delegation to PABSEC MA Igor Becic Talks to Russian Embassy Representative
The Head of the standing delegation of the National Assembly of the Republic of Serbia to the Parliamentary Assembly of the Black Sea Economic Cooperation (PABSEC) MA Igor Becic met today with the senior counsellor at the Russian Embassy in Belgrade Alena Kudryavtseva.
---
The two officials emphasized the excellent bilateral relations between the two countries thanks to a great degree to the efforts of Serbian President Aleksandar Vucic and Russian President Vladimir Putin. They also highlighted the importance of President Putin's recent visit to Serbia, 17 January 2019, where the high dignitaries came to a number of agreements on issues of common interest and reaffirmed the traditional friendship and cooperation between the two countries and nations On the occasion President Putin presented President Vucic with the Order of Alexander Nevsky, a great honour in recognition of the Serbian President's contributions to the development of relations between the two countries. The visit was declared very successful and important for the continued development of political dialogue and economic cooperation between the Republic of Serbia and the Russian Federation.
MA Igor Becic thanked Russia for its support of Srbia's integrity, sovereignty and independence, adding that the country is a reliable partner to Russia. He praised the growth of trade and plans to expand economic cooperation, especially in the spheres of infrastructure and energy.
The officials emphasized the importance of the parliamentary cooperation which had resulted in two countries' excellent cooperation in the international parliamentary organizations they are members of.
Mr. Becic said that the Republic of Serbia is a factor of peace and stability in the region and thanked the Russian Federation for its support.


---
---
tuesday, 21 january
10.00 - continuation of the 19th Extraordinary Session of the National Assembly of the Republic of Serbia, 11th Legislature (National Assembly House, 13 Nikola Pasic Square)

13.00 - press conference of MP Marinika Tepic (National Assembly House, 13 Nikola Pasic Square, Central Hall)

13.30 - press conference of MP Djordje Vukadinovic (National Assembly House, 13 Nikola Pasic Square, Central Hall)

14.00 - press conference of MP Sandra Bozic (National Assembly House, 13 Nikola Pasic Square, Central Hall)

14.20 - press conference of National Assembly Deputy Speaker Djordje Milicevic (National Assembly House, 13 Nikola Pasic Square, Central Hall)

14.30 - press conference of MP Aleksandar Markovic (National Assembly House, 13 Nikola Pasic Square, Central Hall)