National Assembly of the Republic of Serbia / Activities / Activity details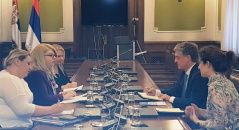 21 December 2018 The Head of the National Assembly delegation to PACE in meeting with the Head of the Council of Europe Office in Belgrade
Friday, 21 December 2018
Head of National Assembly Delegation to PACE Meets with Head of Council of Europe Office in Belgrade
The Head of the National Assembly delegation to the Parliamentary Assembly of the Council of Europe (PACE) Dr Aleksandra Tomic received the newly-appointed Head of the Council of Europe Office in Belgrade Tobias Flessenkemper.
---
Flessenkemper said that the Council of Europe Office in Belgrade is mainly focusing on assisting the judiciary reform, freedom of the media, position of national minorities and is working on the joint project with the European Union aimed at helping SEE countries in the enlargement process follow the EU acquis.
Dr Aleksandra Tomic explained to the newly-appointed Head of the Council of Europe Office in Belgrade mode of operation and activities of the National Assembly standing delegation to PACE, as well as the challenges it comes up against. Dr Tomic drew attention to the Parliamentary Assembly's lack of reaction to the violation of human rights and freedoms in Kosovo-Metohija and less than adequate reaction to the discrimination against the Serbian national minority in in Croatia. She said that the adoption of PACE Monitoring Committee new reports would be most beneficial for Serbia as it would contribute to the country's moving into the post-monitoring stage.
The officials also discussed the coming 70th anniversary of the Council of Europe, as well as deepening cooperation in the fight against corruption, advancement of human and minority rights and judiciary reform.
Tomic reaffirmed that Serbia's top foreign policy goal is EU accession, adding that the National Assembly supports the Government's reform policies by adopting systemic laws in a variety of areas to bring the country's legislation closer to the EU acquis and improve the citizens' quality of life. She went on to say that since joining the Council of Europe Serbia has achieved an enormous progress and fulfilled almost all the assumed obligations.


---
---
| M | T | W | T | F | S | S |
| --- | --- | --- | --- | --- | --- | --- |
| 27 | 28 | 29 | 30 | 31 | 1 | 2 |
| 3 | 4 | 5 | 6 | 7 | 8 | 9 |
| 10 | 11 | 12 | 13 | 14 | 15 | 16 |
| 17 | 18 | 19 | 20 | 21 | 22 | 23 |
| 24 | 25 | 26 | 27 | 28 | 29 | 30 |
| 31 | 1 | 2 | 3 | 4 | 5 | 6 |
friday, 7 august
No announcements for selected date