National Assembly of the Republic of Serbia / Activities / Activity details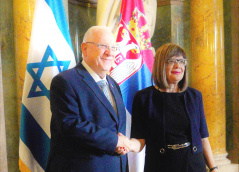 26 July 2018 The National Assembly Speaker and the President of the State of Israel
Thursday, 26 July 2018
Gojkovic with Israeli President
The Speaker of the National Assembly of the Republic of Serbia Maja Gojkovic met today with the President of the State of Israel Reuven Rivlin and took the opportunity to highlight the two countries' friendship and good diplomatic relations since their re-establishment 25 years ago as well as the long and proud history of cooperation.
---
Gojkovic said that the Serbian and Jewish people share an understanding and closeness built during the times of hardship and suffering in World War II and today there are no open issues in the two countries' relationship in the development of which the Israeli President's visit will undoubtedly open a new chapter.
Speaking of the parliaments' role in fostering cooperation, Gojkovic mentioned her visit to Israel and the meeting she had there with a view to strengthen ties and contacts between the working bodies, friendship groups and delegations in international parliamentary organizations.
Gojkovic thanked Israel for its principled stance on the unilaterally declared independence of Kosovo-Metohija and respect of Serbia's territorial integrity and sovereignty i.e. UNSC Resolution 1244 and international law.
Gojkovic went on to say that the National Assembly had passed the Law on remedying the consequences of the seizure of assets of Holocaust victims with no living legal heirs, taking with it a step outside of the European framework on the issue.
The Israeli President thanked the parliament for passing the Law stressing that by it Serbia has shown the world and the international community what needs to be done and added that it is essential to teach the young generations about the horrors of World War II.
Speaking of the long history of relations between the two countries, Rivlin affirmed that the two countries would continue to strengthen the relations between the governments, parliaments and most importantly citizens of the two states.
The Israeli President said that the two countries could cooperate and exchange experiences in a considerable number of areas such as health care, education, agriculture, water supply, adding that many Israeli investors have specifically chosen Serbia as a place to invest in.


---
---
Wednesday, 17 October
9.30 - sitting of the Foreign Affairs Committee (National Assembly House, 13 Nikola Pasic Square, hall 3)

10.00 - continuation of the Second Sitting of the Second Regular Session of the National Assembly of the Republic of Serbia in 2018 (National Assembly House, 13 Nikola Pasic Square)

11.00 - sitting of the Committee on the Economy, Regional Development, Trade, Tourism and Energy (National Assembly House, 13 Nikola Pasic Square, hall 2)

- exhibition "Art Waiting for Justice" (National Assembly House, 13 Nikola Pasic Square, Central Hall)