National Assembly of the Republic of Serbia / Activities / Activity details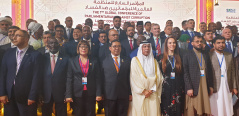 9 December 2019 National Assembly Speaker Maja Gojkovic at the 7th Global Conference of Parliamentarians Against Corruption in Doha
Monday, 9 December 2019
Gojkovic in Doha at 7th Global Conference of Parliamentarians Against Corruption
The Speaker of the National Assembly of the Republic of Serbia Maja Gojkovic is taking part in the 7th Global Conference of Parliamentarians Against Corruption in Doha, 9-10 December.
---
At the start of the Conference Gojkovic attended a reception organized by the Deputy Emir of the State of Qatar Abdullah bin Hamad bin Khalifa Al Thani.
The National Assembly Speaker will also meet with the Speaker of the Shura Council of the State of Qatar Ahmed Bin Abdullah Bin Zaid Al Mahmoud and the two parliament speakers will sign a Memorandum of Understanding.
At the 7th Global Conference, over 40 parliamentary delegations will discuss promoting good governance, progress in the achievement of Sustainable Development Goals concerning peace, justice and strong institutions, achieving parliamentary openness and encouraging transparency to tackle corruption.
The National Assembly delegation also includes Serbian Assembly Deputy Speaker Gordana Comic and MPs Jelena Zaric Kovacevic and Aleksandar Markovic.


---
---
friday, 24 january
9.30 - sitting of the European Integration Committee (National Assembly House, 13 Nikola Pasic Square, hall 3)

10.00 - continuation of the 19th Extraordinary Session of the National Assembly of the Republic of Serbia, 11th Legislature (National Assembly House, 13 Nikola Pasic Square)

10.30 - sitting of the Committee on Spatial Planning, Transport, Infrastructure and Telecommunications (National Assembly House, 13 Nikola Pasic Square, hall 2)

11.00 - press conference of MP Milija Miletic (National Assembly House, 13 Nikola Pasic Square, Central Hall)