National Assembly of the Republic of Serbia / Activities / Activity details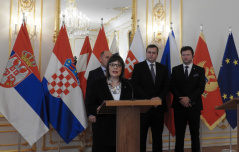 13 February 2019 Speaker Gojkovic at the end of the meeting of the parliament speakers of the Slavkov Group with the topic "EU Enlargement: support for the integration process"
Thursday, 13 February 2020
Gojkovic in Bratislava on Regional Cooperation

At the end of the meeting of the parliament speakers of the Slavkov Group in Bratislava with the topic "EU Enlargement: support for the integration process", the Speaker of the National Assembly of the Republic of Serbia Maja Gojkovic thanked the hosts for the opportunity for Serbia to take part in the meeting stressing how important it is for our country that states such as Slovakia, Austria, the Czech Republic and Croatia, as the country presiding over the EU Council, support EU enlargement.

---
Gojkovic said that this sends the message that the enlargement policy is one of the EU's most successful ones and hoped that Serbia would manage to overcome all the obstacles in its way and prove that it can be a full EU member.
The Serbian Assembly Speaker said that regional cooperation is one of the country's priorities and that maintaining regional stability is of key interest. Gojkovic said that Serbia is committed to strengthening regional cooperation especially in terms of cross-border cooperation, economy, tourism, infrastructure and energy connectivity.
In that context, Gojkovic praised the "mini-Schengen" initiative with its many benefits for the citizens such as travelling across the region with only a personal ID and employment across the region, opining that it will undoubtedly have a positive impact on relations in the region.
The Speaker of the Slovak Parliament Andrej Danko said that today's meeting of the Slavkov format was organized to offer support to friends in the Western Balkans, especially Serbia and Montenegro, and has clearly shown that there is support for these countries' accession process.
Danko said that a large portion of the debate was dedicated to the EU enlargement process and support for Serbia and Montenegro, opining that they should be the next two to join the EU.
The Speaker of the Chamber of Deputies of the Czech Republic Radek Vondracek said that active support for the EU enlargement to incorporate the countries of South Eastern Europe is a strong voice these days and the states of the Slavkov format are working together toward the same goal – full membership, stressing that it would be good for the EU, not an additional burden. The President of the Austrian National Council Wolfgang Sobotka said that the Slavkov format has sent a clear message concerning enlargement and more intensive work within the European Union.
The Speaker of the Croatian Parliament Gordan Jandrokovic said that Croatia, as the country presiding over the EU Council, strongly supports the countries of South Eastern Europe to continue with the negotiations and will continue with its efforts to help friends and neighbours, hoping that the Summit in Zagreb in May will open the door to new member states.
The participants of the meeting of the Slavkov Format also discussed the role of national parliaments, economic cooperation and digital agenda.



---
---
monday, 30 january
10.00 - the National Assembly Speaker meets with the Dutch Ambassador to Serbia (National Assembly House, 13 Nikola Pasic Square, hall 1)

11.00 - the Chairman of the Foreign Affairs Committee meets with the Dutch Ambassador to Serbia (National Assembly House, 13 Nikola Pasic Square, hall 2)

15.00 - the Chairman of the Foreign Affairs Committee meets with the German Deputy Ambassador in Serbia (National Assembly House, 13 Nikola Pasic Square, hall 2)