National Assembly of the Republic of Serbia / Activities / Activity details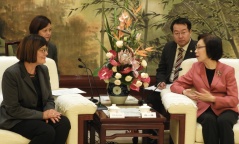 29 November 2017 National Assembly Speaker Maja Gojkovic and the Chairwoman of the Shanghai Municipal People's Congress Yin Yicui
Wednesday, 29 November 2017
Gojkovic Visits Shanghai
In the course of her official visit to the People's Republic of China at the invitation of the Chairman of the Chinese National People's Congress Zhang Dejiang, the Speaker of the National Assembly of the Republic of Serbia Maja Gojkovic visited Shanghai where she meet with the Chairwoman of the Shanghai Municipal People's Congress Yin Yicui and also visited the Women and Children's Centre.
---
In the meeting with Chairwoman Yin Gojkovic stressed that Serbia and PR China are developing exceptionally good political relations raised at the level of comprehensive strategic partnership which provides an excellent incentive for the development of cooperation in the fields of economy, tourism, education and culture at both the local and regional level.
Gojkovic said that Serbia and China's comprehensive strategic partnership at the political and economic level as well as under the auspices of the Belt and Road initiative and China-CIES format opens up many opportunities for cooperation and stressed that the parliaments had greatly contributed to it by establishing the Serbian Assembly and Chinese National People's Congress Parliamentary Commission.
Chairwoman Yin stressed that Serbia and China have not only a long history of good relations but also a bright future seeing how these relations are nurtured with great care and the two countries support one another in vital national issues and have reached the level of firm friendship.

Chairwoman Yin briefed the Serbian Parliament Speaker on Shanghai's development potential as a world metropolis boasting a population of 24 million.
Gojkovic said that the vision of Shanghai's leaders is fascinating and endorsed the cooperation between Serbian and Chinese regions and cities saying that the recently established cooperation between Belgrade and Shanghai is especially significant in that contexts, as will the meeting of the mayors under the auspices of the China-CIES "16+1" cooperation format scheduled for next year in Belgrade. The Serbian Parliament Speaker said that Belgrade's prominent participation in the 14th Shanghai World Travel Fair in April 2017 also confirms the importance of cooperation, as does the presentation of the city of Novi Sad's capital project plans, as the 2021 European Capital of Culture, at the Forum on Cooperation between European Capitals of Culture and East-Asian Cultural Cities.
Gojkovic and Yin stressed the importance of developing cultural cooperation, with Gojkovic mentioning the exhibition of contemporary young Serbian painters in Shanghai as an excellent example.
Gojkovic and Yin agreed that the abolition of visas and the new direct flight between Belgrade and Beijing would help foster even closer ties between the two countries' cities and regions.
The Parliament Speaker also visited the Shanghai Women and Children's Centre where she was presented the programs and projects that, through a number of trainings, help women learn the skills needed to join the labour market.


---
---