National Assembly of the Republic of Serbia / Activities / Activity details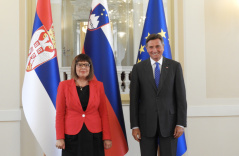 2 July 2019 National Assembly Speaker Maja Gojkovic and Slovenian President Borut Pahor
Tuesday, 2 July 2019
Gojkovic Meets with Slovenian President
The Speaker of the National Assembly of the Republic of Serbia Maja Gojkovic, in official visit to the Republic of Slovenia, met today with Slovenian President Borut Pahor.

---
Gojkovic and Pahor discussed the improvement cooperation between the two countries, regional cooperation and the prospects of the Western Balkans' Euro-integration process.
Gojkovic and Pahor talked about the situation in the European Union and the challenges after the election in light of Brexit, as well as the continuation of the enlargement process in that context.
Gojkovic and Pahor agreed it is vital to keep the enlargement process high on the EU agenda, and Gojkovic thanked Slovenia for supporting Serbia's European integration process and the EU accession of the Western Balkans. Gojkovic stressed that Serbia is fully committed to meeting the European standards.
Gojkovic and Pahor talked about all the aspects of regional cooperation and the importance of preserving peace and stability in the region, and Gojkovic stressed that maintaining regional stability and intensifying overall cooperation is crucial for Serbia.
Gojkovic and Pahor also spoke about the situation in Kosovo-Metohija where Gojkovic stressed Serbia's constructive approach and readiness for dialogue with Pristina, with the proviso that it revoke the 100% customs tariffs on goods from central Serbia and Bosnia and Herzegovina, and Pahor said that Slovenia's stance that these tariffs are unacceptable is a well-known fact.
Gojkovic briefed Pahor on the dynamic and extensive parliamentary cooperation based on the Memorandum of Understanding the Serbian and Slovenian national assemblies signed in Belgrade in December 2018.
President Pahor asked Gojkovic to convey his greetings to Serbian President Aleksandar Vucic.


---
---
monday, 16 december
10.00 - Ninth Sitting of the Second Regular Session of the National Assembly of the Republic of Serbia in 2019 (National Assembly House, 13 Nikola Pasic Square)

11.00 - the MPs meet with the students of the 63rd class of the General Staff Course of the University of Defence National Defence School (National Assembly Building, 14 Kralja Milana Street, Grand Hall)

12.00 - press conference of MP Zoran Zivkovic (National Assembly House, 13 Nikola Pasic Square, Central Hall)

12.30 - sitting of the Committee on the Judiciary, Public Administration and Local Self-Government (National Assembly House, 13 Nikola Pasic Square, hall 3)

12.30 - press conference of MP Prof. Dr Miladin Sevarlic (National Assembly House, 13 Nikola Pasic Square, Central Hall)

13.00 - press conference of MP Bosko Obradovic (National Assembly House, 13 Nikola Pasic Square, Central Hall)

13.30 - press conference of MP Djordje Vukadinovic (National Assembly House, 13 Nikola Pasic Square, Central Hall)

14.00 - press conference of MP Aleksandar Markovic (National Assembly House, 13 Nikola Pasic Square, Central Hall)

14.30 - the Head of the PFG with Algeria meets with Algerian Ambassador to Serbia (National Assembly House, 13 Nikola Pasic Square, hall 2)