National Assembly of the Republic of Serbia / Activities / Activity details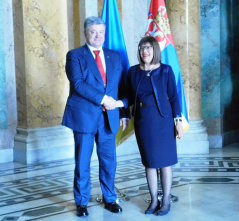 3 July 2018 The National Assembly Speaker and the President of Ukraine
Tuesday, 3 July 2018
Gojkovic Meets with Petro Poroshenko
The Speaker of the National Assembly of the Republic of Serbia Maja Gojkovic met today with the President of Ukraine Petro Poroshenko, stressing that the visit of the President of Ukraine is very important for the two countries' commitment to strengthen bilateral cooperation.
---
Gojkovic said that the bilateral relations are good and traditionally friendly, with no outstanding issues and that the two countries are committed to furthering and improving cooperation at the political and economic level, and in the sphere of Euro-integration.
Gojkovic said that there is significant room to advance interparliamentary cooperation in general as well as at the level of working bodies, especially the ones in charge of foreign affairs and European integration, transportation, tourism, education and culture, and between the parliamentary friendship groups.
Gojkovic said that the National Assembly is ready to contribute to the improvement of overall cooperation by ratifying the agreements the two governments sign.
Gojkovic stressed that Serbia respects Ukraine's territorial integrity like Ukraine respects Serbia's.
Poroshenko said that there are no outstanding issues between Serbia and Ukraine and that Ukraine openly supports Serbia's territorial integrity and does not, nor will it, recognize the unilaterally declared independence of Kosovo-Metohija and will support a solution reached peacefully through dialogue within the realms of international law and thanked Serbia for its support of Ukraine's territorial integrity.
Gojkovic and Poroshenko agreed that Euro-integration is a common priority and another stepping-stone of cooperation between Serbia and Ukraine, adding that that they are ready to exchange integration-related experience.
Poroshenko praised the strengthening of parliamentary cooperation between Serbia and Ukraine and went on to invite the National Assembly Speaker to visit Ukraine which she was happy to accept.
Gojkovic and Poroshenko also spoke about advancing economic relations and Gojkovic said that opening a direct flight between Belgrade and Kyiv would expedite the development of economic relations, also praising the two countries' cultural cooperation evidenced in the monument to Ukrainian poet Taras Shevchenko in Novi Sad and the announced naming of streets in Ukrainian cities after Serbian historic figures.


---
---
Sunday, 17 February
No announcements for selected date