National Assembly of the Republic of Serbia / Activities / Activity details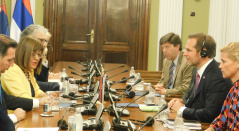 9 July 2018 The National Assembly Speaker and the US Department of State Deputy Assistant Secretary
Monday, 9 July 2018
Gojkovic Meets with Pete Marocco
The Speaker of the National Assembly of the Republic of Serbia Maja Gojkovic met today with the US Department of State Deputy Assistant Secretary and Senior Bureau Official for the Bureau of Conflict and Stabilization Operations Pete Marocco.
---
Gojkovic spoke about the progress and positive trends in the development of bilateral relations between Serbia and the USA, aimed at intensifying cooperation and mutual understanding, as evidenced by the dynamics of the talks with US officials.
Gojkovic went on to say that this visit comes in the moth marking the 100th anniversary of US President Woodrow Wilson's order the put up the Serbian national flag at the White House in Washington D.C. which is a good occasion to remember the historically good relations between Serbia and the USA.
Gojkovic thanked the US for its support of Serbia's European integration, stressing that EU accession is a priority the country is committed to despite the problems in the EU and that the Serbian Parliament is very active on the matter.
Gojkovic underlined the importance of the Congress and Senate's role in the improvement of relations between Serbia and the US, stating that the members of the National Assembly enjoy regular contacts with American congressmen and senators, which should in her opinion become even more frequent in the future.
Gojkovic then spoke about the efforts Serbia is investing into the dialogue with Pristina and implementation of the Brussels Agreement and the need to urge the other side to maintain dialogue and implement what was agreed, especially as regards establishing the Community of Serb Municipalities.
Gojkovic stressed that regional cooperation is one of Serbia's chief foreign policy priorities which the country pursues by taking active part in all regional institutions and the National Assembly does its best to contribute to.
Deputy Assistant Secretary Marocco said that the US wishes to advance the two countries' partnership and friendship. He said that the US supports Serbia's progress toward the European Union and praised the countries' efforts on promoting regional cooperation and participation in the Partnership for Peace.
Marocco was grateful for the long-standing cooperation with the Ohio National Guard, hoping that the relationship would advance, as well as the cooperation in the fight against terrorism and extremism.
Gojkovic mentioned that the National Assembly had passed the Law amending and modifying the Law on the Freezing of Assets for the Aim of Preventing Terrorism as well as the Law on Preventing Money Laundering and Financing of Terrorism.


---
---
Sunday, 17 February
No announcements for selected date