National Assembly of the Republic of Serbia / Activities / Activity details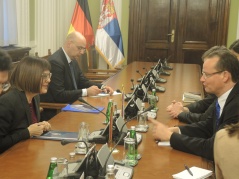 22 March 2016 National Assembly Speaker Maja Gojkovic and the Chairman of Bundestag's Committee on EU Affairs
Tuesday, 22 March 2016
Gojkovic Meets with Krichbaum
The Speaker of the National Assembly of the Republic of Serbia Maja Gojkovic met today with the Chairman of the German Bundestag's Committee on the Affairs of the European Union Gunther Krichbaum, currently in visit to Serbia.
---
Gojkovic and Krichbaum condemned today's terrorist attack in Brussels and agreed that it is not simply an attack on a state, but an attack on the European way of life. They opined that Europe should join forces in the fight against terrorism, which means better cooperation between the police forces and security services.

Gojkovic and Krichbaum also discussed Serbia's Euro-integration and agreed that bilateral issues have no place within the European processes.

Krichbaum said he was optimistic that Europe would reach a consensus as regards the opening of chapters 23 and 24 and stressed that Germany will contribute to finding a compromise and an adequate solution.

Gojkovic briefed Krichbaum on the National Assembly's role in the negotiation process, adding that the Assembly's Committee in charge of European integration had recently discussed the Government's negotiating position on Chapter 23.


---
---
sunday, 1 october
No announcements for selected date