National Assembly of the Republic of Serbia / Activities / Activity details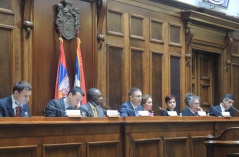 7 March 2014 Gathering on the Sustainability prospects of funding support for children and vulnerable groups, social welfare beneficiaries
Friday, 7 March 2014
Gathering Held on Sustainability Prospects of Funding Support for Children and Vulnerable Groups, Social Welfare Beneficiaries
The National Assembly House hosted a gathering on Sustainability prospects of funding support for children and vulnerable groups, social welfare beneficiaries.
---
Opening the gathering, National Assembly Speaker Dr Nebojsa Stefanovic highlighted the importance of the topic of financial support for children and vulnerable social groups, especially in the midst of an economic crisis. Speaker Stefanovic opined that setting up a single social inclusion fund should be one of the priorities of the state, which would combine all the funds in one place and enable better and efficient use of the funds and the social inclusion of vulnerable population categories. The National Assembly Speaker concluded that it would be important to legally define the role of such a fund and its functioning mechanisms.
The participants of the gathering were also addressed by the Head of the UNICEF Serbia Office Michel Saint-Lot who said that, according to the last popular census in Serbia, children make up a mere 17% of the population and a third of them are exposed to poverty. A comprehensive and systemic support for children and poor families is essential, said Saint-Lot adding that the establishment of a single social inclusion fund would greatly contribute to it. The Head of the UNICEF Serbia Office also pointed out that a lot had recently been done to improve the position of children in society, especially in the sphere of legislation.
The gathering was attended by MPs, representatives of the Ministry of Labour, Employment and Social Policy, Republic of Serbia Government Office for Cooperation with Civil Society, Republic of Serbia Government Team for Social Inclusion and Poverty Reduction, as well as representatives of NGOs and expert public.
The presentation included a status review of the funding of social welfare services in Serbia, prospects for funding social welfare services from the budget and an overview of the civil sector support programmes project by international development partners. A Study of options for the establishment of a social inclusion fund was also presented.
The participants also discussed the financing of support for families, civil society organisations, and possible solutions and activities necessary to be implemented in the coming period. They broached the issues of how to fund social welfare services in times of economic crisis, and potentials for more efficient spending and control of the allocation of budget funds at the national and local level.
The participants agreed that a new institutional mechanism should be set up – social inclusion fund, which should ensure a more efficient allocation of funds for the support of social welfare beneficiaries.

---
---
saturday, 19 september
No announcements for selected date