National Assembly of the Republic of Serbia / Activities / Activity details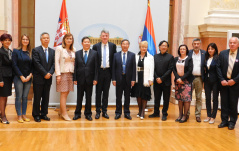 23 May 2019 The MPs and the delegation of the Chinese National People's Congress Ethnic Affairs Committee
Thursday, 23 May 2019
Foreign Affairs Committee and Human and Minority Rights and Gender Equality Committee Members Meet with Chinese National People's Congress Ethnic Affairs Committee Delegation
Foreign Affairs Committee Chairman Prof. Dr Zarko Obradovic said that the delegation's visit is one more step toward expanding cooperation between the parliaments of Serbia and China. He emphasized the excellent relations between the two countries, led by the two presidents, Serbian President Aleksandar Vucic and Chinese President Xi Jinping. Obradovic also highlighted Serbia's active role in the Belt and Road initiative and 17+1 cooperation process, evident in the many ongoing and completed Serbia-China projects.
---
Obradovic informed the Chinese delegation about the status of the national minorities in Serbia, 28 in all, and the fact that the country is applying all international standards concerning minorities to additionally ensure that their human and minority rights are exercised in full and can proudly say that it is a country that has satisfactorily addressed the status of minority communities. He went on to speak about Kosovo-Metohija stressing that the Albanian minority's status is a separatist, not an ethnic issue and thanked China for its continued principled support of Serbia's sovereignty and territorial integrity.
Xiao Huaiyuan, head of the delegation of the Chinese National People's Congress Ethnic Affairs Committee, agreed that the two countries' relations are exceptionally good, from political to economic cooperation, highlighting the two nation's traditionally friendly relations. He stressed that the meetings of Chinese President Xi Jinping and Serbian President Aleksandar Vucic and the strategic partnership agreement signed in 2016 during Chinese President's historic visit to Serbia have greatly contributed to this. He also spoke about the significance of President Vucic's recent participation in the Second Belt and Road Forum for International Cooperation.
Xiao Huaiyuan went on to brief the National Assembly delegation about the number, position and rights of the minorities in China which has 56 ethnic groups, 55 of which are national minorities.
The meeting was attended by Dubravka Filipovski, Prof. Dr Ljubisa Stojmirovic, Milanka Jevtovic Vukojicic, Olivera Ognjanovic, Vesna Ivkovic, Natasa St. Jovanovic, Violeta Lutovac, Ljiljana Malusic and Nikola Savic.


---
---
wednesday, 23 september
No announcements for selected date