National Assembly of the Republic of Serbia / Activities / Activity details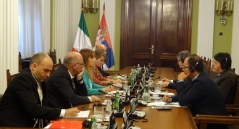 31 July 2015 The members of the Foreign Affairs Committee in meeting with the Head of Italian parliamentary delegation to CEI
Friday, 31 July 2015
Foreign Affairs Committee Members Meet with Head of Italian Parliamentary Delegation to CEI
The Chairperson and members of the Foreign Affairs Committee met, at the National Assembly, with the Head of the Italian parliamentary delegation to the Central European Initiative (CEI), Senator Lodovico Sonego.
---
Foreign Affairs Committee Chairperson Aleksandra Djurovic shared her pleasure at the excellent bilateral relations between Serbia and Italy and thanked Italy for its support of Serbia's path to the European Union. The National Assembly has reached a consensus on EU accession, said Aleksandra Djurovic hoping that by the end of the year more than just negotiations chapter 35 would be opened so that the ongoing reform process in Serbia might not remain in the shadow of the dialogue between Belgrade and Pristina.

Stressing Serbia's dedication to regional cooperation, the Foreign Affairs Committee Chairperson said that good-neighbourly relations are crucial for the stabilisation and association process of the Western Balkans with the European Union.

Condemning the recent attempt on the life of Serbian Prime Minister Aleksandar Vucic in Potocari, Aleksandra Djurovic stressed that despite it the Government of the Republic of Serbia and Prime Minister Vucic remain dedicated to the policy of reconciliation and fostering good relations with the neighbouring countries.

The Head of the Italian parliamentary delegation to CEI, Senator Lodovico Sonego said he appreciated the efforts Serbia makes on the path to the European Union.

The officials agreed that every state should be offered the opportunity of NATO membership, and Aleksandra Djurovic reaffirmed Serbia's foreign policy stance that it is open to cooperation with NATO but does not wish to join the organisation.

The meeting was attended by Committee members Nevena Stojanovic and Branislav Blazic.


---
---
thursday, 23 january
9.30 - sitting of the Committee on Constitutional and Legislative Issues (National Assembly House, 13 Nikola Pasic Square, hall 2)

10.00 - continuation of the 19th Extraordinary Session of the National Assembly of the Republic of Serbia, 11th Legislature (National Assembly House, 13 Nikola Pasic Square)

11.00 - sitting of the Committee on Finance, State Budget and Control of Public Spending (National Assembly House, 13 Nikola Pasic Square, hall 2)

14.00 - press conference of MP Bosko Obradovic (National Assembly House, 13 Nikola Pasic Square, Central Hall)

14.00 - sitting of the Foreign Affairs Committee (National Assembly House, 13 Nikola Pasic Square, hall 2)

14.15 - press conference of MP Miroslav Aleksic (National Assembly House, 13 Nikola Pasic Square, Central Hall)

15.00 - press conference of MP Nedjo Jovanovic (National Assembly House, 13 Nikola Pasic Square, Central Hall)

15.50 - press conference of MP Aleksandar Markovic (National Assembly House, 13 Nikola Pasic Square, Central Hall)