National Assembly of the Republic of Serbia / Activities / Activity details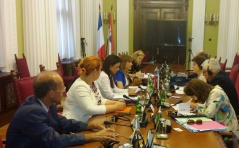 15 June 2015 Foreign Affairs Committee members meet with French parliamentary delegation
Monday, 15 June 2015
Foreign Affairs Committee Members Meet with French Parliamentary Delegation
The Chairperson and the members of the Foreign Affairs Committee met today, at the National Assembly House, with a delegation of the French National Assembly's France-Serbia Parliamentary Friendship Group, headed by Martine Carrillon-Couvreur.
---
Foreign Affairs Committee Chairperson Aleksandra Djurovic opined that the two countries' parliamentary cooperation is excellent and thanked France for the support it offers Serbia concerning the opening of the first EU negotiations chapters.

The National Assembly has reached consensus on EU accession, stressed Aleksandra Djurovic in the meeting with the French parliamentarians, adding that it is one of Serbia's foreign policy priorities.

Aleksandra Djurovic also said that Serbia is dedicated to the normalisation of relations with Pristina and full implementation of the Brussels Agreement, stressing the importance of the common European prospects of the Western Balkan countries for the resolution of all open issues in the region.

The Head of the France-Serbia PFG Martine Carrillon-Couvreur said that Serbia's progress in the necessary reforms on the road to the European Union is obvious, adding that she understood the seriousness of the process, considering that the accession talks are conducted in a very complex political context.

Addressing the members of the Foreign Affairs Committee, Martine Carrillon-Couvreur conveyed her country's readiness to continue to cultivate good relations with Serbia.

Committee members Marija Obradovic and Dr Dijana Vukomanovic informed the French parliamentarians about the activities of the Women's Parliamentary Network on maintaining contacts between the women members of parliament from Belgrade and Pristina, aimed at normalising the relations and resolving the vital problems of the citizens of Kosovo-Metohija.

The two delegations agreed that Serbia and France should also intensify economic cooperation.

The meeting was also attended by Committee member Dusica Stojkovic.


---
---
saturday, 19 september
No announcements for selected date