National Assembly of the Republic of Serbia / Activities / Activity details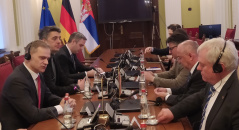 17 February 2023 The participants of the meeting
Friday, 17 February 2023
Foreign Affairs Committee Members Meet with Bundestag Delegation
Foreign Affairs Committee Members Meet with Bundestag Delegation
---
Foreign Affairs Committee Chairman Borko Stefanovic pointed out that Serbia appreciates every form of cooperation with Germany, especially the intensive communication between the parliamentarians, elected representatives of citizens.
He went on to say that our country is in a sensitive situation, bearing in mind that, although it supported the territorial integrity and sovereignty of Ukraine, it has not aligned its foreign policy with the European one. Stefanovic added that he strongly advocates for this, both because of Serbia's European path, economy and investments, as well as the position and possibility of protecting national interests regarding Kosovo and Metohija.
The Foreign Affairs Committee Chairman said that Belgrade is committed to dialogue and resolving the open issues with Pristina, but it is unthinkable to recognise the independence of so-called Kosovo or support its membership in the UN. It is of the greatest interest for us that Serbs continue to live in Kosovo-Metohija, as is Serbia preserving its national dignity and European path, while gaining membership in the EU as quickly as possible, emphasised Stefanovic, expressing his regret that our public has not been allowed to see "German-French" proposal for the normalisation of relations between Belgrade and Pristina.
The Chairman of Bundestag's Parliamentary Friendship Group with South-East Europe Josip Juratovic agreed that constant contacts and the exchange of views between parliamentarians are extremely important, adding that he strongly advocates that the Berlin Process, as an important regional initiative, be supported by the activity of the Western Balkans' parliamentarians. He said that the German Government is committed to giving the Western Balkans a serious European perspective.
Juratovic also pointed out that it is important to conduct a dialogue between Belgrade and Pristina, with the aim of reaching a compromise solution, so that the parties in the conflict could get closer.
In the course of the conversation, Dubravka Filipovski also pointed out the importance of providing the region with a clear European perspective and speeding up the process of Serbia's European integration.
Djordje Miketic stated that open issues should be resolved through dialogue and that this is the way to achieve peace and stability in the Western Balkans. He also welcomed regional initiatives that enable connecting people, economic and trade cooperation.
---
---
| M | T | W | T | F | S | S |
| --- | --- | --- | --- | --- | --- | --- |
| 27 | 28 | 29 | 30 | 1 | 2 | 3 |
| 4 | 5 | 6 | 7 | 8 | 9 | 10 |
| 11 | 12 | 13 | 14 | 15 | 16 | 17 |
| 18 | 19 | 20 | 21 | 22 | 23 | 24 |
| 25 | 26 | 27 | 28 | 29 | 30 | 31 |
saturday, 2 december
No announcements for selected date