National Assembly of the Republic of Serbia / Activities / Activity details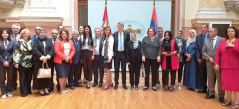 9 June 2019 The Foreign Affairs Committee in meeting with the Algerian parliamentary delegation
Tuesday, 9 July 2019
Foreign Affairs Committee Members Meet with Algerian Parliamentary Delegation
Today, at the National Assembly House, Foreign Affairs Committee Chairman Prof. Dr Zarko Obradovic met with an Algerian parliamentary delegation to discuss deepening overall cooperation between the two countries. Obradovic praised the traditionally friendly relations between the two countries and high level of mutual trust and support as evidenced by the reciprocal visits of high dignitaries.
---
He informed the delegation about Serbia's problems with Kosovo-Metohija such as Pristina's imposition of the 100% customs tariff on goods from central Serbia and Bosnia and Herzegovina and the establishment of so-called Kosovo Army which is against UNSC Resolution 1244, adding that while Serbia had fulfilled all of its obligations under the Brussels Agreement, Pristina has failed to fulfil its one – establishment of the Community of Serb Municipalities.
Obradovic said that only dialogue can lead to a lasting solution to the Kosovo issue. He thanked Algeria for its principled non-recognition of so-called Kosovo and support of Serbia's territorial integrity and sovereignty.
Prof. Dr Zarko Obradovic went on to say that EU accession is Serbia's foreign policy priority, as are good relations with world powers and advancing regional as well as cooperation with other countries, Non-Aligned Movement members included.
He stressed that Serbia is also very interested in deepening economic, cultural and educational cooperation with Algeria.
The head of the Algerian parliamentary delegation Jafar Noara Sadia thanked the MPs for the warm welcome and agreed with the Foreign Affairs Committee Chairman that the two countries' high level of cooperation still leaves room to advance interparliamentary cooperation. She briefed the attending on Algeria's foreign policy situation, stressing that the country stands by its principled stance on Serbia's territorial integrity and sovereignty, as per international law. She opined that there is room to advance economic and cultural cooperation, adding that an exchange of best parliamentary practice and joint anti-terrorist efforts would be greatly appreciated.
The meeting was also attended by Algerian Ambassador to Serbia H.E. Abdelhamid Chebchoub who said that the country's decision to not recognize so-called Kosovo remains unchanged
MP Dubravka Filipovski agreed that the relations between the two countries are excellent, that there are no outstanding issues and emphasized the importance of interparliamentary cooperation. She agreed with the head of the Algerian delegation that human rights and combating terrorism are key issues that need to be addressed at the global level.
The meeting was also attended by MPs Dusica Stojkovic, Ljiljana Malusic, Dragomir Karic, Dr Milorad Mijatovic, Prof. Dr Ljubisa Stojmirovic, Tijana Davidovac and Maja Macuzic Puzic.


---
---