National Assembly of the Republic of Serbia / Activities / Activity details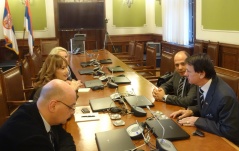 1 December 2015 The Foreign Affairs Committee Chairperson in meeting with the Armenian Ambassador in Serbia
Tuesday, 1 December 2015
Foreign Affairs Committee Chairperson Meets with Armenian Ambassador
Foreign Affairs Committee Chairperson Aleksandra Djurovic met today with the Ambassador of Armenia Gagik Ghalachian to discuss bilateral, economic and cooperation in international organisations between Serbia and Armenia.
---
The officials noted that the relations between Serbia and Armenia at the governmental level are on the rise, especially between the two foreign ministries.

Ambassador Ghalachian informed the Foreign Affairs Committee Chairperson about the Armenian Parliament Speaker's invitation to the National Assembly Speaker to visit Armenia next year, which will be the first visit by a National Assembly Speaker to the country. He opined that the visit will contribute to the establishment of parliamentary relations, especially in view of the fact that parliamentary diplomacy is an important tool for international relations. The Ambassador opined that the first visit to Armenia will encourage cooperation not only at the level of speakers but at the level of parliamentary committees and friendship groups as well. Ambassador Ghalachian also urged for an improvement of cooperation between Serbia and Armenia in international organisations. He reaffirmed that Armenia will continue to support Serbia concerning the Kosovo-Metohija issue, reminding that his country had supported Serbia in the recent UNESCO vote.

Foreign Affairs Committee Chairperson Aleksandra Djurovic was surprised to hear that no National Assembly Speaker had visited Armenia before, and that no Armenian Parliament Speaker had visited Serbia. She opined that parliamentary cooperation had not reached the level of cooperation existing between the executive powers. Djurovic commended the cooperation between the Serbian and the former Armenian delegation at the Parliamentary Assembly of the Council of Europe (PACE), lamenting the lack of said cooperation today. She briefed the Armenian Ambassador on the relations between the Serbian and Armenian delegations to PACE.

Chairperson Djurovic and Ambassador Ghalachian agreed that interparliamentary cooperation is a good way to overcome the outstanding issues and problems.

The meeting was attended by the Honorary Consul of Armenia in Serbia Predrag Tomic.


---
---
saturday, 4 july
No announcements for selected date