National Assembly of the Republic of Serbia / Activities / Activity details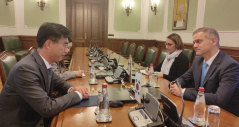 18 October 2022 The Chairman of the Foreign Affairs Committee in meeting with the Ambassador of the Republic of Korea
Tuesday, 18 October 2022
Foreign Affairs Committee Chairman Meets with Korean Ambassador to Serbia to Discuss Advancing Interparliamentary Cooperation
The Chairman of the Foreign Affairs Committee Borko Stefanovic met today at the National Assembly House with the Ambassador of the Republic of Korea to the Republic of Serbia Jaewoong Lee to discuss the relations between the two countries and intensification of bilateral cooperation.
---
Borko Stefanovic said that the Republic of Korea is a friendly country, highlighting the importance of economic relations and investments of Korean companies in Serbia.
Recalling the intensive interparliamentary cooperation that existed before the start of the coronavirus pandemic, Ambassador Jaewoong Lee opined that the visit of the Deputy Speaker of the Parliament of the Republic of Korea, scheduled for the end of October, would contribute to the further continuation of this successful cooperation.
The Chairman of the Foreign Affairs Committee mentioned the possibility of exchanging visits by delegations of the two parliaments' working bodies, as well as parliamentary friendship groups, with the aim of establishing closer contacts between Serbian and Korean parliamentarians.
The meeting also touched on the current situation in Europe and the world. Borko Stefanovic welcomed the efforts of the Republic of Korea to maintain peace in East Asia. He said that the crisis caused by the war in Ukraine opens up the possibility for Serbia and other Balkan countries to make strategic decisions important for the future and perspectives of these countries. In this sense, he said that, as the Chairman of the Foreign Affairs Committee, he will propose to the Committee and the National Assembly to adopt a document harmonising Serbia's foreign policy with that of the European Union. Opining that it would be a rational decision in the interest of Serbia and its citizens, the officials agreed that the harmonisation of Serbia's foreign policy with the EU would be a positive signal for new investments by Korean companies, as well as other companies from East Asia.
Speaking about the situation in Kosovo-Metohija, Borko Stefanovic stated that Serbia is committed to continuing the dialogue with Pristina, in order to resolve all open issues, except for the recognition of the independence of so-called Kosovo. Ambassador Jaewoong Lee welcomed the dialogue between Belgrade and Pristina, which would lead to a sustainable and long-term solution.
---
---
wednesday, 4 october
9.00 - sitting of the Committee on Finance, State Budget and Control of Public Spending (National Assembly House, 13 Nikola Pasic Square, hall 2)

10.00 - the National Assembly Speaker meets with the Chinese Ambassador to Serbia (National Assembly House, 13 Nikola Pasic Square, hall 1)

12.00 - sitting of the Culture and Information Committee (National Assembly House, 13 Nikola Pasic Square, hall 4)