National Assembly of the Republic of Serbia / Activities / Activity details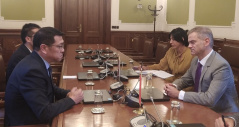 16 September 2022 The Chairman of the Foreign Affairs Committee in meeting with the Deputy Chief of Mission and Minister-Counsellor at the Embassy of the People's Republic of China in Serbia
Friday, 16 September 2022
Foreign Affairs Committee Chairman Meets with Deputy Chief of Mission and Minister-Counsellor at Chinese Embassy in Serbia
The Chairman of the Foreign Affairs Committee Borko Stefanovic met today with the Deputy Chief of Mission and Minister-Counsellor at the Embassy of the People's Republic of China in Serbia Tian Yishu to discuss views on the two countries' territorial integrity and sovereignty and their geopolitical positions, Chinese investments in Serbia and the friendship between the countries.
---
At the beginning of the meeting, Yishu expressed his satisfaction with the opportunity for cooperation and conveyed the greetings of the Chinese Ambassador to Serbia H.E. Chen Bo, with a request to set up a meeting between the members of the Foreign Affairs Committee and the Chinese Ambassador. The Minister-Counsellor stressed that the excellent relations between Serbia and China should be continued both through the cooperation of supreme government authorities and through support at the international level.
Stefanovic said that he would personally make sure the Chinese Ambassador to Serbia and the members of the National Assembly's Foreign Affairs Committee meet, adding that as the Chairman of the Committee, he would continue to support to China at international forums. He added that China's friendship could always be felt in Serbia, even in the most difficult moments our country was faced with. He went on to say that Chinese investments have significantly improved the Serbian economy, but the Chinese companies must respect the legal framework concerning environmental protection, compliance with tender procedures and workplace safety, alluding to the companies operating in Bor, Majdanpek, Zrenjanin and Smederevo. He stressed that there should be no disagreements in the strong ties binding Serbia and China. Yishu said that China demands that Chinese companies abide by the regulations of the countries they operate in and that these companies have already taken action to make sure they comply with environmental standards.
Stefanovic said that, regardless of political affiliations in China and Serbia, the countries must continue to cultivate the already established friendship, which his guest agreed with.
---
---
| M | T | W | T | F | S | S |
| --- | --- | --- | --- | --- | --- | --- |
| 27 | 28 | 29 | 30 | 1 | 2 | 3 |
| 4 | 5 | 6 | 7 | 8 | 9 | 10 |
| 11 | 12 | 13 | 14 | 15 | 16 | 17 |
| 18 | 19 | 20 | 21 | 22 | 23 | 24 |
| 25 | 26 | 27 | 28 | 29 | 30 | 31 |
saturday, 2 december
No announcements for selected date