National Assembly of the Republic of Serbia / Activities / Activity details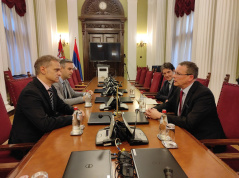 28 October 2022 The Chairman of the Foreign Affairs Committee in meeting with the Canadian Ambassador to Serbia
Friday, 28 October 2022
Foreign Affairs Committee Chairman Meets with Canadian Ambassador to Serbia
The Chairman of the Foreign Affairs Committee Borko Stefanovic met today at the National Assembly House with the Canadian Ambassador to Serbia Giles Norman.
---
Stefanovic thanked the Ambassador for the continuous meetings and cooperation with the National Assembly, hoping that a Parliamentary Friendship Group with Canada would be set up soon and that the cooperation between the two countries would be further strengthened through the meetings of the two parliaments' friendship groups and foreign affairs committees.
Speaking about European integration, Stefanovic expressed his belief that Serbia belongs in the European Union, as one of the oldest European countries, and that the entire Balkans should be part of the European community. He said that Serbia faces major challenges in terms of aligning its foreign policy with that of the European Union. Ambassador Norman welcomed Serbia's efforts to become a full member of the European Union, agreeing with Stefanovic that its place is in the EU.
Speaking about Kosovo-Metohija, Stefanovic said that all the political parties in Serbia need to jointly reach a solution as close as possible to consensus and overcoming the problem, and that in the interest of stability in the region it is extremely important that the so-called Kosovo does not become a member of NATO. Ambassador Norman expressed hope that a solution satisfactory to both parties would be reached on the Belgrade-Pristina front, and in the course of the meeting the officials also touched on the topic of license plates of the so-called state of Kosovo.
Stefanovic extended a request for the cancellation of visas for Serbian citizens wishing to enter Canada, and spoke about considering the possibility of establishing a direct flight between Serbia and Canada, which the country of Canada also expressed interest in.
---
---
friday, 27 january
8.30 - the National Assembly Speaker meets with the EP Rapporteur for Serbia and a member of the EU - Serbia SAPC delegation (National Assembly House, 13 Nikola Pasic Square, hall 1)

9.00 - sitting of the Committee on the Judiciary, Public Administration and Local Self-Government (National Assembly House, 13 Nikola Pasic Square, hall 2)

10.00 - the MPs meet with the EP Rapporteur for Serbia and a member of the EU - Serbia SAPC delegation (National Assembly House, 13 Nikola Pasic Square, Small Hall)

12.15 - press conference of MP Prof. Dr Tamara Milenkovic Kerkovic (National Assembly House, 13 Nikola Pasic Square, Central Hall)