National Assembly of the Republic of Serbia / Activities / Activity details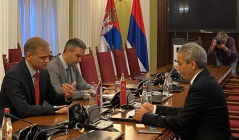 19 October 2022 The Chairman of the Foreign Affairs Committee in meeting with the Turkish Ambassador to Serbia
Wednesday, 19 October 2022
Foreign Affairs Committee Chairman Borko Stefanovic Meets with Turkish Ambassador to Serbia
The Chairman of the Foreign Affairs Committee Borko Stefanovic met today at the National Assembly House with the Turkish Ambassador to Serbia H.E. Hami Aksoy to discuss current topics in Europe, the Western Balkans, negotiations between Belgrade and Pristina and the cooperation process between Serbia and Turkey.
---
Borko Stefanovic stressed that Turkey is one of Serbia's most important economic partners, highlighting the importance of Turkish investments in Serbia, which are increasing and becoming more and more present every year. He particularly emphasised the importance of the good energy cooperation between the two countries.
The officials opined that there has been significant progress in the field of tourism, referring to the ever-improving flight connections between the two countries. The exchange of visits of high state officials also testifies to the good relations between the two countries.
Borko Stefanovic informed the Ambassador about the situation in Kosovo-Metohija, pointing out that official Belgrade is ready to have a political and technical dialogue with Pristina, but Serbia cannot accept any conditions which would mean recognition of Kosovo's independence.
One of the topics of the meeting was the current situation in Europe caused by the conflict between Russia and Ukraine, which has left its mark on all of Europe and especially affects the energy crisis.
There was also talk about the possibility of improving parliamentary cooperation, through reciprocal visits of members of the two parliaments' foreign affairs committees and parliamentary friendship groups.
---
---
friday, 22 september
9.00 - sitting of the Committee on Finance, State Budget and Control of Public Spending (National Assembly House, 13 Nikola Pasic Square, hall 3)

10.00 - the National Assembly Speaker meets with the Russian Ambassador to Serbia (National Assembly House, 13 Nikola Pasic Square, hall 1)

12.00 - the members of the Foreign Affairs Committee meets with the German Ambassador to Serbia (National Assembly House, 13 Nikola Pasic Square, hall 2)

14.00 - the Chairman of the Foreign Affairs Committee meet with attendees of the autumn school organised by the Belgrade Centre for Security Policy and the German Agency for Civic Education (National Assembly Building, 14 Kralja Milana Street, Blue Salon)