National Assembly of the Republic of Serbia / Activities / Activity details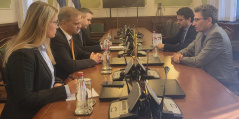 21 October 2022 The Chairman of the Foreign Affairs Committee in meeting with the Ambassador of the Kingdom of Spain
Friday, 21 October 2022
Foreign Affairs Committee Chairman Borko Stefanovic Meets with Spanish Ambassador to Serbia
The Chairman of the Foreign Affairs Committee Borko Stefanovic met today at the National Assembly House with the Ambassador of the Kingdom of Spain to the Republic of Serbia Raul Bartolome Molina with whom he discussed the current topics in Europe, the Western Balkans and negotiations between Belgrade and Pristina.
---
Borko Stefanovic informed the Ambassador about the situation in Kosovo-Metohija, pointing out that official Belgrade is ready for a political and technical dialogue with Pristina, but that Serbia cannot accept any conditions that would mean the recognition of Kosovo's independence. He especially thanked Spain for its principled position on the unilaterally declared independence of so-called of Kosovo, stressing that its constant support for Serbia's positions in international organisations is of great importance. Thanking Spain for the consistent and continuous support it provides Serbia in its European integration process, he also expressed confidence that EU member states and institutions would continue to endorse the enlargement policy.
The Ambassador said that Spain would continue to support the territorial integrity and sovereignty of the Republic of Serbia, as well as its progress on the path to European integration.
The officials also discussed the current situation in Europe caused by the conflict between Russia and Ukraine, as well as the diversification of the country's supply of gas and other energy sources.
The meeting also touched on improving parliamentary cooperation, through an exchange of visits of the members of the two parliaments' foreign affairs committees and parliamentary friendship groups.
---
---
monday, 11 december
No announcements for selected date