National Assembly of the Republic of Serbia / Activities / Activity details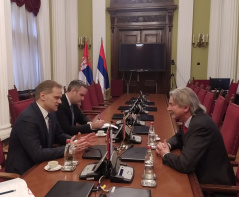 30 January 2023 The participants of the meeting
Monday, 30 January 2023
Foreign Affairs Committee Chairman Borko Stefanovic Meets with German Deputy Ambassador to Serbia
The Chairman of the Foreign Affairs Committee Borko Stefanovic met today at the National Assembly House with the German Deputy Ambassador to Serbia Carsten Meyer–Wiefhausen and the central topic of the conversation was the situation in Kosovo-Metohija and the upcoming National Assembly session.
---
Stefanovic explained that the official convocation of the session of the National Assembly is expected in the coming days, which will address the situation in Kosovo-Metohija and be attended by President Aleksandar Vucic. He said that the French-German plan proposed for the normalisation of relations in Kosovo-Metohija has not yet been distributed to the members of the National Assembly for review, which, he said, precludes any constructive discussion in the plenum. He took the opportunity to emphasise that the Kosovo-Metohija issue and Serbia's European integration must be above party agitations as they are topics of national importance, and that the task of the opposition is to be an opponent of the ruling party, not to Serbian interests.
The Committee Chairman emphasised the need for continuous cooperation with EU member countries, highlighting the support that Serbia receives from them on its European path, and underlined that this process must be given an additional impulse. With the Deputy German Ambassador to Serbia, Stefanovic also discussed the possibility of a meeting with the Chairman of the German Bundestag's Committee on Foreign Affairs, as well as the conflict between Russia and Ukraine, which the officials declared reminiscent of the Cold War era and the strained relations between the world powers, with Stefanovic adding that the neutral position Serbia is trying to maintain on this issue is harming its citizens. He restated that it is extremely important for Serbia to align its foreign policy with the foreign policy of the European Union as it is the best way to defend the national interests of the state and all of its citizens.
The Deputy Ambassador said that the aim of his visit was to gain a broader picture of the parliamentary atmosphere and the positions taken by the party groups, considering this National Assembly legislature's pluralism. He was also interested in whether the diplomatic corps would be invited to National Assembly session on Kosovo-Metohija, agreeing with the view that the most important issue is the safety of the population living in this area.
---
---
wednesday, 6 december
No announcements for selected date