National Assembly of the Republic of Serbia / Activities / Activity details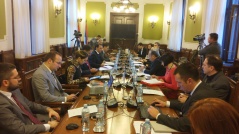 15 January 2015 Fifth Meeting of National Assembly Economic Caucus
Thursday, 15 January 2015
Fifth Meeting of National Assembly Economic Caucus
At its fifth meeting, held on 15 January, the Economic Caucus discussed the amendments to the Bill amending and modifying the Law on Fire Protection so that it could be harmonised with the Law on Planning and Construction.
---
The members of the Economic Caucus discussed the terminological harmonisation of the amendments, especially as regards the composition of the commission doing the technical inspection of facilities.

In addition to the Caucus members the meeting was also attended by representative of the Ministry of Interior Ivan Zarev, representatives of IRI, NALED, USAID and the European Movement.

The Head of the Economic Caucus, Prof. Dr Vladimir Marinkovic presided over the meeting.


---
---
monday, 30 november
9.00 - National Assembly Speaker Ivica Dacic at the online Council session and 13th Plenary Session of the Collective Security Treaty Organisation (National Assembly House, 13 Nikola Pasic Square, hall 1)

11.00 - sitting of the Environmental Protection Committee (National Assembly House, 13 Nikola Pasic Square, hall 4)

12.00 - National Assembly Speaker Ivica Dacic meets with the the Chairman of the House of Representatives of the Parliamentary Assembly of Bosnia and Herzegovina Nebojsa Radmanovic (National Assembly House, 13 Nikola Pasic Square, hall 1)

12.45 - press conference of National Assembly Speaker Ivica Dacic and the Chairman of the House of Representatives of the Parliamentary Assembly of Bosnia and Herzegovina Nebojsa Radmanovic (National Assembly House, 13 Nikola Pasic Square, Central Hall)