National Assembly of the Republic of Serbia / Activities / Activity details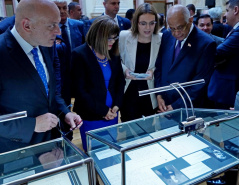 Exhibition in honour of 110 years of diplomatic relations between the Republic of Serbia and the Arab Republic of Egypt
Thursday, 19 July 2018
Exhibition in Honour of 110 Years of Diplomatic Relations between the Republic of Serbia and the Arab Republic of Egypt
The opening of the exhibition in honour of 110 years of diplomatic relations between the Republic of Serbia and the Arab Republic of Egypt at the National Assembly House was attended by National Assembly Speaker Maja Gojkovic, Speaker of the House of Representatives of the Arab Republic of Egypt Ali Abdel Aal Ahmed and Minister of Culture and the Media Vladan Vukosavljevic.
---
Opening the exhibition, Egyptian Ambassador to Serbia H.E. Amr Fathi Aljowaily said that this was an excellent opportunity for the two countries to review the depth of the relations between them. "If we look at the last 110 years closely, we will see how many options for advancement in the coming 110 years there are", said the Ambassador.
The exhibition contains documents testifying of the period from 1906, when the initiative to set up a Serbian diplomatic representative office in Egypt was launched, to the visit of Egyptian President Muhammad Hosni Mubarak to SFRY in 1984. Among others, it contains the ordinance of King Peter I Karadjordjevic appointing Bosko Colak- Antic the first Serbian diplomatic agent in Egypt, the ordinance of King Aleksandar I Karadjordjevic on the opening of the general consulate of the Kingdom of Serbs, Croats and Slovenes in Cairo, and the ordinance of Josip Broz Tito appointing Josip Djerdj Extraordinary and plenipotentiary Ambassador of the Federal People's Republic of Yugoslavia.
The exhibition is co-organized by the Archive of Serbia, Archives of Yugoslavia, National Assembly and the Embassy of the Republic of Egypt.
---
---
thursday, 20 january
13.00 - the National Assembly Speaker meets with the Ambassador Extraordinary and Plenipotentiary of the Bolivarian Republic of Venezuela (National Assembly House, 13 Nikola Pasic Square, diplomatic salon of Prince Pavle)