National Assembly of the Republic of Serbia / Activities / Activity details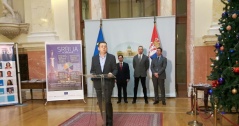 Exhibition "Sharing European values - glad to learn about the EU"
Wednesday, 16 December 2015
Exhibition Sharing European Values - Glad to Learn about the EU
The exhibition entitled "Sharing European values - glad to learn about the EU" at the National Assembly House marked the 40th anniversary of the European Union Visitors Programme.
---
National Assembly Deputy Speaker Prof. Dr Vladimir Marinkovic said he was glad that the National Assembly House was the venue of such an important celebration of the day already marked in Brussels and Strasbourg, just one day after the opening of the negotiation chapters with the EU.
"We, the parliamentarians will work with dedication and diligence toward European integration, modernisation of our country and adoption of the highest standards in all the segments of social life, especially human and minority rights, economy, social policy, culture and education", said Deputy Speaker Marinkovic.
Speaking of the EU Visitors Programme, the Head of the EU Delegation to Serbia Michael Davenport said that the programme was launched by the European Commission and the European Parliament to enable young people to obtain first-hand impressions of how the EU institutions operate.
"Over 4,000 participants from more than 100 countries had the opportunity to visit Brussels and Strasbourg. Since 2001, 35 participants from Serbia took part in the Programme, among them Minister without portfolio responsible for European integration Jadranka Joksimovic and Chief Negotiator for the accession negotiations with the EU Tanja Miscevic", said Davenport.
The assembly was also addressed by Vladimir Ateljevic, advisor to the Minister without portfolio responsible for European integration at the Government of the Republic of Serbia, and two participants of the EU Visitors Programme, in 2008 and 2014, Vladimir Todoric, International Secretary of the Democratic Party, and Goran Miletic, Programme Director for the Western Balkans at Civil Rights Defenders.
Click
here
to watch the speeches and the opening of the exhibition.
---
---
thursday, 20 january
13.00 - the National Assembly Speaker meets with the Ambassador Extraordinary and Plenipotentiary of the Bolivarian Republic of Venezuela (National Assembly House, 13 Nikola Pasic Square, diplomatic salon of Prince Pavle)