National Assembly of the Republic of Serbia / Activities / Activity details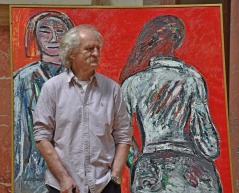 18 April 2016 Milan Cile Marinkovic
Monday, 18 April 2016
Exhibition "Passers By – from Cile to Belgrade" by Milan Cile Marinkovic
As part of Days of Belgrade, the National Assembly of the Republic of Serbia will be hosting an exhibition by artist Milan Cile Marinkovic entitled "Passers By – from Cile to Belgrade", created at his art studio in the last two years.
---
The exhibition will be opened on 19 April 2016, at 7 pm, by National Assembly Speaker Maja Gojkovic.
The exhibition will be on until
26 April 2016.
People who would like to view the exhibition must apply, a day before at the latest, by e-mail to
edukacija@parlament.rs
or by calling the Education and Assembly Heritage Presentation Group on 011/3026-273 to settle the details such as time and group.
---
---