National Assembly of the Republic of Serbia / Activities / Activity details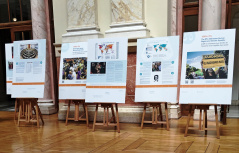 28 June 2019 Exhibition "1889-2019: Celebrating 130 Years of the Inter-Parliamentary Union"
Friday, 28 June 2019
Exhibition "1889-2019: Celebrating 130 Years of the Inter-Parliamentary Union" on International Day of Parliamentarism
The National Assembly House is hosting exhibition "1889-2019: Celebrating 130 Years of the Inter-Parliamentary Union" to mark International Day of Parliamentarism, 30 June.
---
The Serbian Assembly prepared the exhibition following the development of the Inter-Parliamentary Union (IPU) as the oldest international parliamentary organization in the world, with the help of the IPU Secretariat.

To emphasize the strong relationship of the IPU and the United Nations, the exhibition is also organized in the United Nations Office in Geneva and the United Nations Headquarters in New York.

IPU today has 179 members, national parliaments from around the world, and its biannual sessions are attended by over 1500 participants.

The Republic of Serbia and the National Assembly will host the coming 141st IPU Assembly in Belgrade, 13-17 October.



---
---
wednesday, 19 january
10.00 - public hearing on Artificial intelligence and man in the new digital era, organised by the Committee on Education, Science, Technological Development and the Information Society (National Assembly House, 13 Nikola Pasic Square, Small Hall)