National Assembly of the Republic of Serbia / Activities / Activity details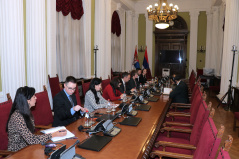 3 November 2022 Participants of the meeting
Thursday, 3 November 2022
European Integration Committee Members Meet with German Ambassador to Serbia
The members of the European Integration Committee, headed by Chairperson Elvira Kovacs, met today at the National Assembly House with the German Ambassador to Serbia H.E. Anke Konrad.
---
At the beginning of the meeting, Kovacs thanked the Ambassador for the initiative for the meeting and introduced the Committee members present and Konrad pointed out that the European Integration Committee was the first National Assembly committee she was eager to speak with after her recent appointment as German Ambassador to Serbia.
Konrad went on to say that she sees Serbia as one of the member states of the European Union and that Germany is ready to provide active support. The Ambassador took the opportunity to ask the Committee members about their view of the European Commission's 2022 Progress Report on Serbia i.e. what are the Report's priority points and what are the areas the MPs can contribute to.
At the Ambassador's interest, Kovacs explained that the Committee's primary task is to determine the degree of compliance of proposed bills with the EU acquis. She said that the negotiations with the European Union are led by the Government of the Republic of Serbia and the Committee has a controlling role. She went on to say that the recent lull in the working body's operation was due to the dissolution of the Assembly, parliamentary elections and the constitution of the new National Assembly and Government. In the meantime, the Commission's Report reached the Assembly and will be discussed by the Committee tomorrow in the presence of the Minister of European Integration Tanja Miscevic and the Head of EU Mission to Serbia Ambassador Emanuele Giaufret, which will then pass conclusion proposals on the reviewed Report which will subsequently be considered at a National Assembly plenary session.
The officials agreed that the European Commission's Report is a map of the path to be followed and of areas which require additional attention. Kovacs also stressed that the citizens should be made more aware of the multiple benefits of joining the European Union, given the trend of declining support for the integration process. The Ambassador agreed with the Committee Chairperson, adding that, regardless of the European Union accession, Serbia should pay special attention to democratisation for the benefit of the citizens themselves in areas such as the rule of law, freedom of the media and independence of the judiciary. Kovacs emphasised that even during the Government's technical mandate, the Ministry of Justice worked diligently, in two task groups, on the working versions of a set of laws that will continue the procedure aimed at ensuring the independence of the judiciary in Serbia.
In the course of the meeting, the attending Committee members Milan Radin, Dunja Simonovic Bratic, Natan Albahari and Ksenija Markovic spoke on the topics of climate change, media freedom, the Berlin Process and energy challenges in the coming period.
---
---
friday, 27 january
8.30 - the National Assembly Speaker meets with the EP Rapporteur for Serbia and a member of the EU - Serbia SAPC delegation (National Assembly House, 13 Nikola Pasic Square, hall 1)

9.00 - sitting of the Committee on the Judiciary, Public Administration and Local Self-Government (National Assembly House, 13 Nikola Pasic Square, hall 2)

10.00 - the MPs meet with the EP Rapporteur for Serbia and a member of the EU - Serbia SAPC delegation (National Assembly House, 13 Nikola Pasic Square, Small Hall)

12.15 - press conference of MP Prof. Dr Tamara Milenkovic Kerkovic (National Assembly House, 13 Nikola Pasic Square, Central Hall)