National Assembly of the Republic of Serbia / Activities / Activity details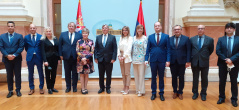 14 May 2021. The participants of the meeting
Friday, 14 May 2021
European Integration Committee Meets with Delegation of Hungarian Parliament's Foreign Affairs Directorate
The Chairperson and members of the European Integration Committee met today with a delegation of the Directorate for Foreign Affairs of the Hungarian Parliament to discuss Serbia's EU accession process and improvement of interparliamentary cooperation.
---
Committee Chairperson Elvira Kovacs informed the head of the Hungarian delegation that the Government of the Republic of Serbia had adopted two new negotiating positions and announced the adoption of two more positions by the end of this month. She thanked Hungary for providing strong support to Serbia on its European path, stressing that it is very important to have friendly help in the delicate process from someone who knows the situation and specifics Serbia faces and copes with.
The head of the delegation of the Hungarian Parliament's Directorate for Foreign Affairs Peter Sardi said he was most pleased with the visit and hopes that Serbian parliamentarians would visit the Hungarian Parliament in the near future. He stressed that there is a lot of room for improvement of parliamentary cooperation. The officials agreed that an exchange of visits would be a good idea, hoping that the pandemic situation would soon allow for it. Reminding the hosts that this year's meeting of the Speakers of the Parliament of Southeast Europe would be held in Budapest, Sardi said he was very pleased that the Speaker of the National Assembly of the Republic of Serbia Ivica Dacic would take part in the upcoming meeting. He also announced the upcoming visit of the Hungarian Parliament Speaker to Serbia.
Sardi said that Serbia has Hungary's full support as regards European integration and offered the Hungarian Parliament's help through programmes and projects, especially after Serbia accepted the new EU methodology.
Committee member Dusica Stojkovic stressed that the relations between the two countries have reached the highest level in modern history. She thanked Hungary for its support in the European integration process, as well as during the pandemic caused by the COVID-19 virus. Stojkovic stressed that Serbia has great expectations of the Western Balkans Investment Framework, according to which considerable funds would be channelled to the Green Agenda, circular economy, competitiveness of the economy, strengthening regional cooperation and environmental projects. Finally, she pointed out that there are no Eurosceptics among the current legislature's MPs, but she believes that informing citizens about the course of integration requires additional efforts. She went on to ask about specific programmes and projects that could be realised between the two parliaments.
Committee member Dubravka Filipovski stressed how nice it was to see well-meaning neighbours, adding that Hungary's vote of support of Serbia's EU path is very important. She reaffirmed that Serbia is committed to fulfilling the obligations said process entails.
Saying that Hungarian Prime Minister Viktor Orban and Serbian President Aleksandar Vucic did an excellent job in bringing our countries closer, Committee member Nemanja Joksimovic stressed that it is now up to the parliaments to contribute to strengthening cooperation further.
---
---
friday, 21 january
13.00 - meeting of the Inter-Party Dialogue Control Body (National Assembly House, 13 Nikola Pasic Square, hall 1)