National Assembly of the Republic of Serbia / Activities / Activity details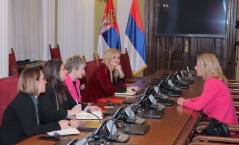 6 December 2022 The Chairperson of the European Integration Committee and the coordinator of the National Convention on the European Union
Tuesday, 6 December 2022
European Integration Committee Chairperson and National Convention on European Union Coordinator Discuss Further Cooperation
The Chairperson of the European Integration Committee Elvira Kovacs met today at the National Assembly with the coordinator of the National Convention on the European Union Bojana Selakovic to discuss the continuation of cooperation in the coming period.
---
Elvira Kovacs stressed that the Committee and the National Assembly enjoy intensive cooperation with the National Convention on the EU and that it is important to continue with the practice of holding consultative meetings when considering proposals of negotiating positions in the process of negotiations on the accession of the Republic of Serbia to the European Union.
Bojana Selakovic agreed that it is important to continue the cooperation, pointing out that it is extremely important for civil society organisations to use institutional mechanisms through which they can influence and cooperate with the decision makers.
In the conversation, Kovacs and Selakovic agreed that there is ample room to work together to restore the citizens' support for Serbia's European integration. They opined that, in that sense, it would be useful to have European Integration Committee meetings outside the National Assembly seat, in local communities, where all the advantages and concrete benefits of Serbia's membership in the EU would be presented to the citizens through direct communication.
The officials also opined that regional cooperation is extremely important from the aspect of the European integration of the Western Balkans.
---
---
wednesday, 8 february
10.00 - continuation of the First Extraordinary Session of the National Assembly of the Republic of Serbia, 13th Legislature (National Assembly House, 13 Nikola Pasic Square)

11.00 - the Head of the PFG with Saudi Arabia meets with the Ambassador of the Kingdom of Saudi Arabia to Serbia (National Assembly House, 13 Nikola Pasic Square, hall 2)

11.00 - press conference of MP Borko Puskic (National Assembly House, 13 Nikola Pasic Square, Central Hall)

11.00 - sitting of the Committee on Administrative, Budgetary, Mandate and Immunity Issues (National Assembly House, 13 Nikola Pasic Square, hall 3)

13.00 - the members of the PFG with Algeria meet with the Algerian Ambassador to Serbia (National Assembly House, 13 Nikola Pasic Square, hall 3)